Anxious Seeks Canine – Part 9: 'A short-term solution'

Reading time:
8
minutes
Anxious Seeks Canine is a memoir blog series about a gay man living with Asperger's, mental illness, and the relationships that may very well be fueling it. Names and identifying details have been changed to protect the privacy of all featured individuals. Except for the dog. Here's part 1, 2, 3, 4, 5, 6, 7, 8, 9, 10, 11, 12, 13, 14, 15, 16, 17, and 18.
---
I
My trips to the dog park with Cash had been anything but relaxing. But if I was going to get the downtime I craved, I would need to ease up on the helicoptering and splash out on self-care.
Cash, I decided, should be given the freedom to roam and deal with problems of his own making. Meanwhile, I'd stretch out on a deck chair, crack a book spine, and disappear behind its cover.
It was just like our family's trips to the local swimming pool many summers past, only now I was taking on the role of the harried parent, and Cash that of the harassing child.
Left to his own devices, my dog would wander the length of the park, stirring up turmoil wherever he went.
While I quickly learned to tune out the disapproving mutterings of other dog parents, the moment my dog struck up a serious ruckus, my instincts would kick in.
Jumping to my feet, I'd clap to get Cash's attention, calling him back. This was my compromise, and while I wanted to believe my apologetic smiles appeased other dog owners, not all were forgiving.
The moment a spat erupted, you could always expect more than a few people to come running.
"No hurting, no hurting!" I heard one man cry, in a tone that suggested the very idea itself was hurtful.
Owners would sweep their pets into their arms, comforting or scolding, some seemingly more damaged by conflict than their pets. Not me. My approach was now staunchly of the hands-off sort.
One morning, a man entered the enclosure, strutting about in gym shorts and a string tank top.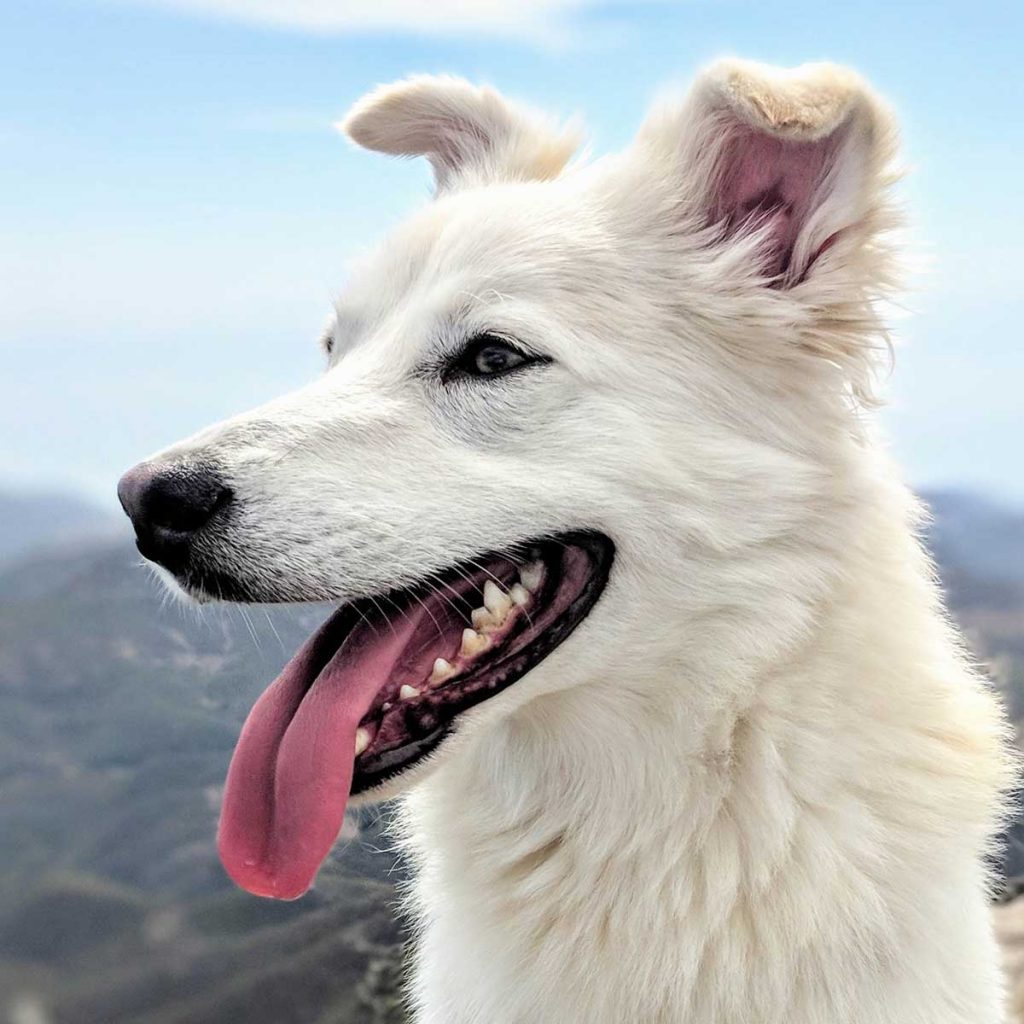 All sculpted pecs and bulging quads, Brawny Man maintained a brooding silence. His air was less "strong, silent type" than offended masculinity.
His dog couldn't have struck a greater contrast. The white Samoyed was a ball of fur that padded daintily to and fro, tail swishing languidly behind her, hugging the enclosure fence like a courtesan trying to keep her distance from the unwashed masses.
If the Samoyed saw herself as a courtesan, Cash saw her as cattle. He ran barking towards the other dog, never mind the fact he was half her size.
The Samoyed could have stood her ground. Instead, she bolted, as if before the advance of a marauding brute.
"Cash!" I called, thumbing the vibrate button on the training collar's remote. "Come here!"
Cash raced back towards me, leaving the Samoyed cowering in one corner.
"I'm so sorry," I stammered, turning to Brawny Man.
"Seriously man," he replied. "Really?" As if my little troublemaker had ruined his day.
Brawny Man approached the Samoyed, patting her. His movements seemed somehow stilted, like that of someone wiping his hand on a tea towel.
Then Brawny Man stood tall, brooding over charge for a few minutes, then stormed out of the enclosure, the Samoyed sashaying after him.
I fell to wondering what the other man must be feeling. Sympathy for his traumatized child? Anger towards me, for giving Cash free reign to play a harmless game of chase?
Chasing, barking, picking fights were, at least to me, standard playground behavior. Sometimes it culminated in harmless little scraps, an exchange of yelping and biting, but rarely anything serious.
People with Aspergers – Aspies, as we like to call ourselves – are often accused of not having empathy. I tend to think it's more a question of selectivity. We have a habit of "systematizing"; squaring things away into tidy little boxes, employing logic before emotion.
This same tendency to compartmentalize led me to believe that if no one was physically hurt, these clashes between my dog and his various playmates could be ruled as character-building.
As for the possibility those involved might be psychologically damaged – bah!
When the shoe was on the other foot and it was Cash being terrorized for a change, my position remained unchanged. I dare say I even felt satisfaction.
Cash was, after all, getting his just desserts.
---
II
But after a handful of such clashes, Cash's hostility towards other dogs escalated.
The instant he spotted another dog headed towards us, the lead would go taut in my grasp and I would overbalance, stumbling as Cash scrabbled headlong towards his target.
The first times this happened, I made the mistake of trying to pick Cash up, carrying him directly past his often inoffensive offender.
Maybe if Cash could be soothed – reassured that the other dog didn't pose any danger – he would relax.
"It's okay, Cash," I cooed one time, stroking his fur. "You're safe- Ouch!"
Cash was flailing now, and clawing me in the process.
From then onward, whenever I spotted another dog, I'd do a complete 180, coaxing Cash away like a parent trying to avert a toddler tantrum.
Cash would bark, throwing a few sullen looks over his shoulder, and reluctantly follow. As there were more than a few dog owners in our building – never mind our neighborhood – it was impossible to perform a complete circuit of our block without encountering one of them.
Thinking that I might be able to curb Cash's violent reaction with positive reinforcement, I packed a pouch with dog treats and led Cash towards a yard housing his chief opponent: a spotted mutt.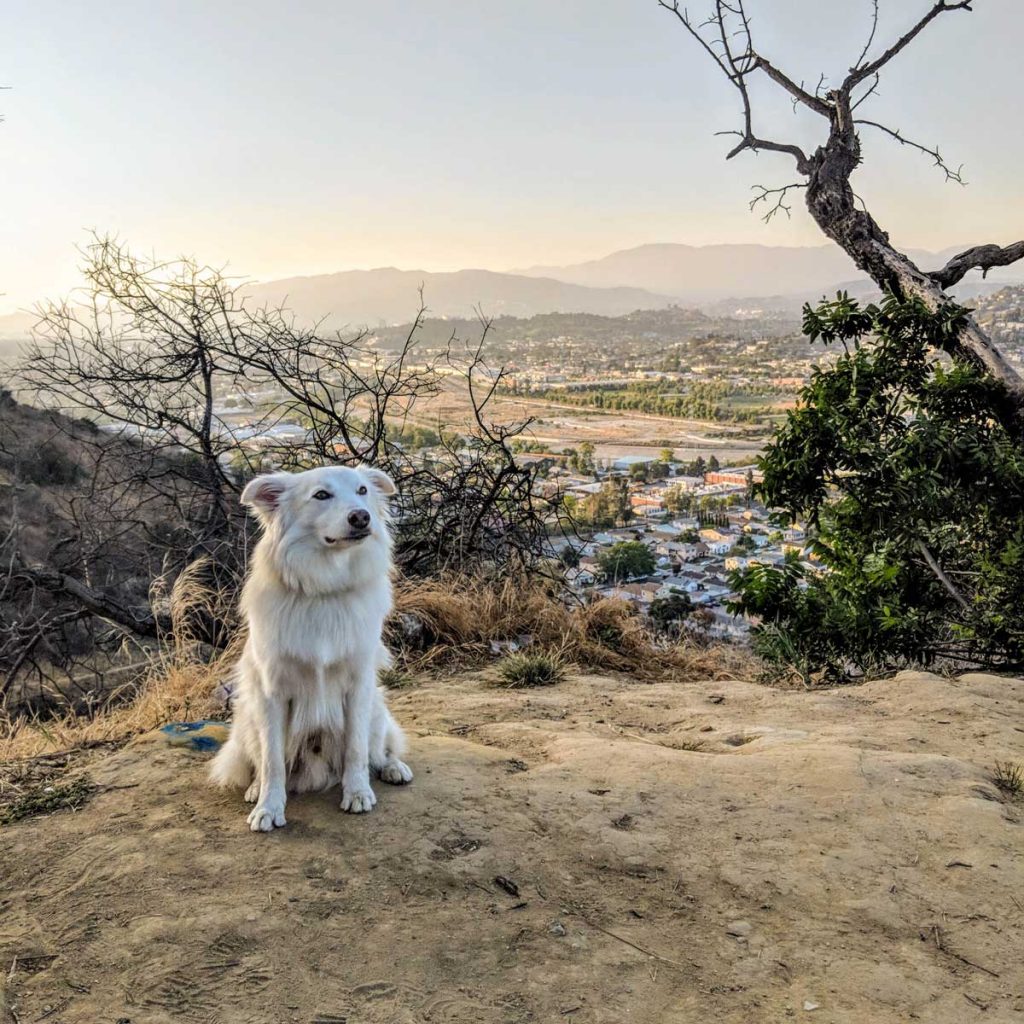 To say that I did not share Cash's hostility towards this particular creature would have been a lie. This mutt's only purpose in life, it seemed, was bum-rushing pedestrians. In my case, he had triggered more than a few panic attacks.
"Okay, Cash," I said, as we stopped a ten or so feet from the yard, "we're going to try something new. Sit." Cash sat, and I handed him a treat, petting him. "Good boy."
At the sound of our voices, the spotted mutt slunk into view, glaring at us through the chain-link fence. Then he let loose a fusillade of barks.
Cash immediately returned fire, jerking me forward as he rushed to attack.
"Uh-uh Cash. Stop it. Sit. Sit!"
In a matter of seconds, my dog had gone from calm to fury. Now with the enemy in his sights, and was no backing down. Cash would not stop until the mutt had been torn to pieces, crushed into meal, incinerated.
"Cash! Stop. Be quiet!" I tried distracting Cash with a dog treat. It was no use. My attempt at training was doomed to failure.
I dragged Cash past the spotted mutt, and he leapt snarled at the fence.
Exasperation turned to anger. Wrenching Cash away, I smacked him once, twice, three times on the snout.
"No! Bad dog!"
Cash continued to struggle so I grabbed him, alpha rolled him onto his back and held him there. Clearly my dog had forgotten who the boss was, so it was high time I reminded him.
He struggled like a man on fire, nipping at my hand.
"Not stop me," went his growls. "Will fight. Will fight!"
A passing car slowed, the driver leaning heavily on the horn. A window rolled down and a face appeared.
"What the hell is wrong with you?" it screamed.
"What the hell is wrong with you?" I screamed back, frozen in the act of what looked like a strangling.
Trying to save face, I angled my body so that it seemed I might have actually been trying to shield Cash against the spotted dog.
Maybe my ruse worked, because the driver muttered, rolled up his window and sped away.
All the while, Cash was writhing in my grasp. Thanks to him, I had been caught performing the equivalent of a public smacking session.
Faced with Cash's growing unruliness, I recognized that what the circumstances called for were a hell a lot of a patience. But wrestling with my own anxiety as it was, this was a quality I was sorely lacking.
It was high time that I sought an expert opinion.
---
III
I sat in the examination room, reading the news on my phone, trying to ignore Cash as he whined and paced.
He'd heard the barks emanating from another part of the clinic, and this apparently had sent him into search-and-destroy mode.
After a few minutes' wait, a sparrow-sized woman in a lab coat entered, introducing herself with an accent I pegged as Czech.
"So I see here Cash is struggling with anxiety," Dr. Stransky said, looking down at the appointment form I'd completed a few minutes earlier.
"As you can probably see," went my reply.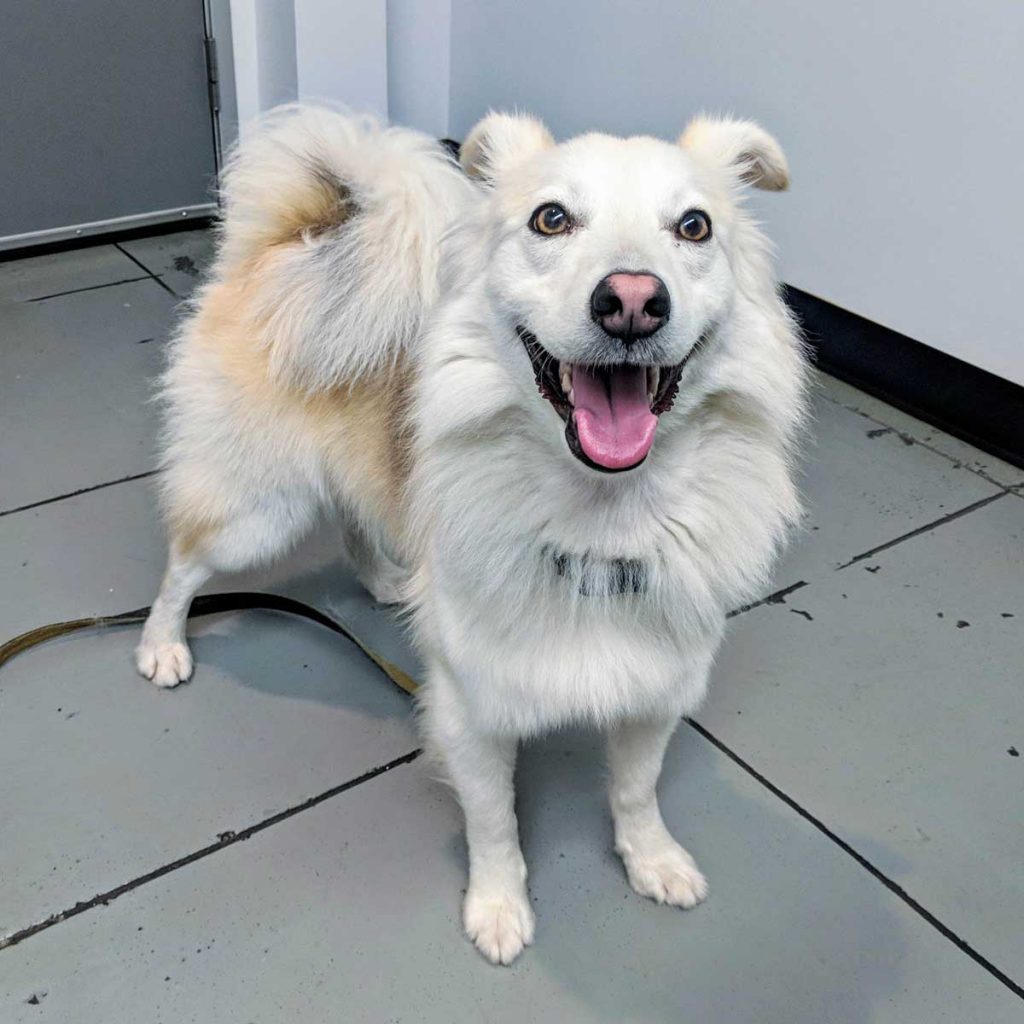 I called Cash over and hauled him up on my lap.
"It's okay Cash. You're safe."
But he only slid off and resumed his post by the door, whimpering like a kid sentry awaiting the arrival of enemy combatants.
"I've been trying everything to calm him down," I continued, "and nothing seems to be working. I was wondering…is medication an option?"
Dr. Stransky clicked her tongue.
"Medication is only a short-term solution," she said.
"But Cash has a serious problem," I replied. "He makes a huge fuss the minute I leave the apartment without him." The vet stared at me.
"Look," I almost said, "I'm not suggesting putting him in a permanent drug fugue. I just want the option."
"Have you tried puppy training school?" Dr. Stransky asked finally. I flushed.
"I can't afford that."
When once asked by a pre-adoption questionnaire how much I would be willing to shell out on medical expenses for my dog, I had written $3000.
Never mind $3000 was almost twice the amount I had in my bank account at any given time. Sure, I'd been bluffing, but I was confident my dog would never have any serious problems. Everything was going to be A-okay. How wrong I had been.
"What you really need," Dr. Stransky continued, "is help from a dog behaviorist."
"How much is that going to cost?" I asked, not caring how miserly I probably sounded.
The vet produced a pamphlet for a nearby pet hospital. I scanned the price list. A basic two-hour behaviorist consultation came in at a steep $600.
"Jesus," I whispered.
Six…hundred…dollars. That kind of cash I wouldn't even think of spend on myself, let alone taking my pet to see a canine shrink.
Sure, to some owners, $600 may seem like peanuts for peace of mind, but I struggled to justify it. If this woman thought I was going to start a second job Ubering in order to stop my dog breaking down the front door, she was sorely mistaken.
Dr. Stransky hummed.
"I know," she said, "it's expensive. But I've heard great things about this center."
Determined not to let my vet visit go to waste, I changed tack.
"If Cash continues like this," I said, "I'm worried I won't be able to keep him." The vet was implacable.
"I'll give you a limited script," Dr. Stransky said. "But like I said, you can't rely on drugs alone to treat Cash."
What she seemed to be suggesting, at least to my paranoid self, was that I was looking for a quick-fix solution.
And so what if I was? Pills had dulled the screaming tirades of my own mind to a tolerable background buzz; had restored me from a shuffling caffeine-infused insomnia zombie to a vigorous, seven-hours-minimum-a-night self.
And pills alone were what was keeping me sitting in my chair at the veterinarian's office, conveying a composure I certainly didn't feel.
Yet by Dr. Stransky's tone, I knew nothing I said or did was going to change her mind. So I grumbled agreement, took the script, and left.
Out in the car, I looked over the prescription and saw it was for the exact same medication I was using to treat my own anxiety.
It was yet another uncanny parallel between Cash and me; one I suppose I should have found it amusing.
Yet my trip to the vet had done little to allay my concerns. If anything, it had brought into focus the yawning gap between Cash's needs, and my ability to meet them.
---
Anxious Seeks Canine continues with Part 10: 'Annul anarchy'.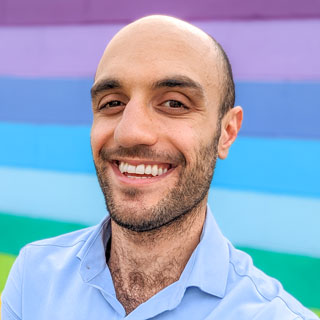 Essy Knopf is a budding social worker interested in best practices and exploring gay and autistic experiences. Subscribe to get all new posts sent directly to your inbox.
© 2023 Ehsan "Essy" Knopf. Any views or opinions represented in this blog are personal and belong solely to the blog owner and do not represent those of people, institutions or organizations that the owner may or may not be associated with in professional or personal capacity, unless explicitly stated. All content found on the EssyKnopf.com website and affiliated social media accounts were created for informational purposes only and should not be treated as a substitute for the advice of qualified medical or mental health professionals. Always follow the advice of your designated provider.