Anxious Seeks Canine – Part 12: 'Sorry not sorry'

Reading time:
6
minutes
Anxious Seeks Canine is a memoir blog series about a gay man living with Asperger's, mental illness, and the relationships that may very well be fueling it. Names and identifying details have been changed to protect the privacy of all featured individuals. Except for the dog. Here's part 1, 2, 3, 4, 5, 6, 7, 8, 9, 10, 11, 12, 13, 14, 15, 16, 17, and 18.
---
I
Recent sessions with my therapist Dr. Kukosian had been spent discussing my difficulties with Cash. But if I believed my dog alone was the cause of my ongoing stress, I was certainly fooling myself.
My workaholic lifestyle remained unchanged, my brain locked into helping me fight my way out of a struggle town that was probably more imaginary than real.
Finally, some weeks after my feature film's disappointing premiere screening, the first sign of the recognition I had been chasing arrived.
A national Australian broadcaster emailed asking to purchase my film and broadcast it as part of a human interest television program about modern faith, ethics, and values.
This was a development that called for celebration. And yet I felt more glad than I did festive. After five years of relentless self-imposed work, I just wanted to put the project behind me.
Still, if ever there was a time for a break, this was it. However tight my purse strings might be, there was no guarantee that the payday my film's sale promised would return any time soon.
So I called a friend I had made years earlier during a visit to San Francisco, Varinder, who agreed we were both overdue for some time away.
We booked a three-day hiking trip, staying at an Airbnb cottage in Three Rivers, just outside of Sequoia National Park.
While park rules meant Cash wouldn't be able to join us on our hikes, he could at the very least stay in the cottage. My reasoning was that the time spent in the presence of nature would soothe his frazzled nerves, but when we at last departed, it was amid uproar.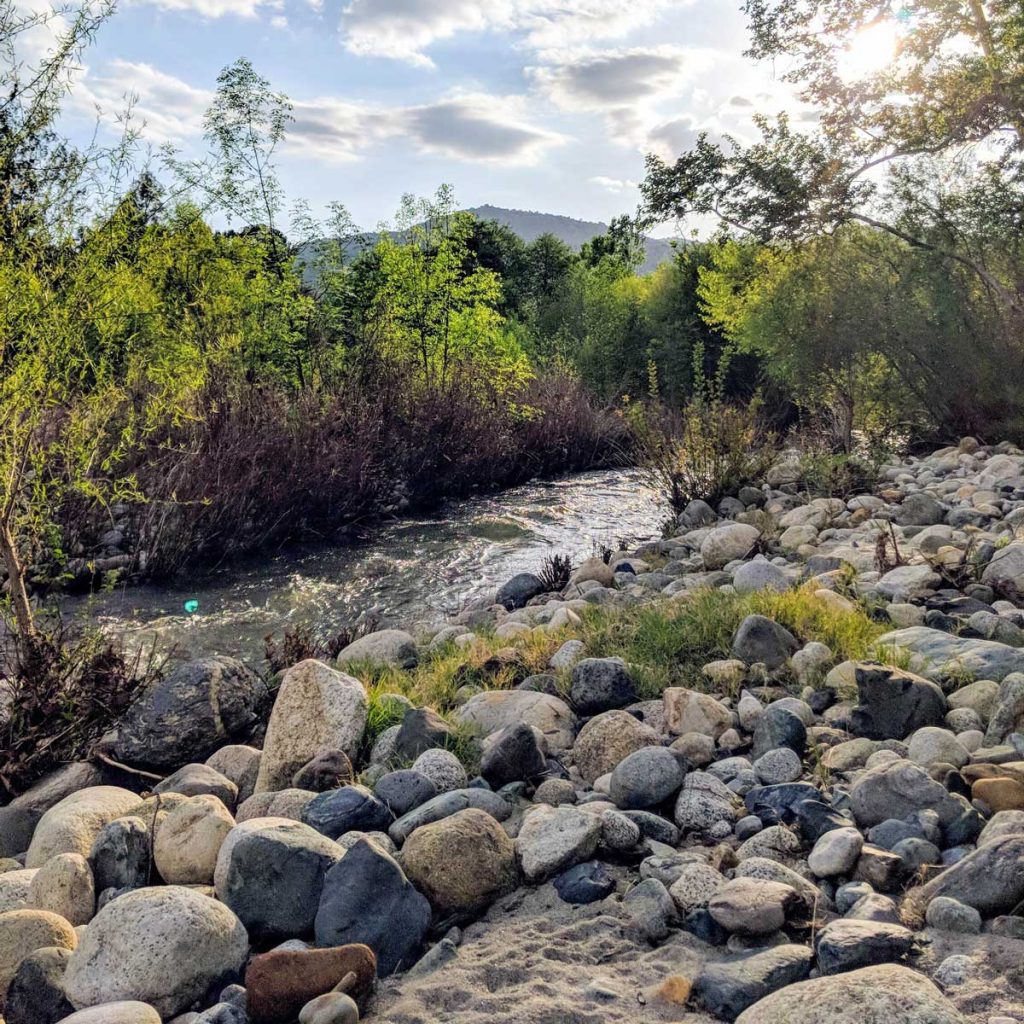 For the first 30 minutes of the drive to Three Rivers, Cash yelped nonstop, straining wildly against his seatbelt. This behavior had become customary every time I took my dog out, Cash having associated car trips with visits to the dog park…and ensuing duels to the death.
As if this wasn't enough, 30 minutes into the trip, he got carsick and painted the floor with soggy chunks of dog kibble.
I pulled over, hit the hazard lights and got out of the car. Opening the door to the backseat, I found my dog crouched awkwardly on the ground, whining in pain.
Cash had, in his frenzy, twisted a seat belt around one leg. With a sigh, I unbuckled Cash and unwound the belt.
Mopping up his mess, my thoughts took a turn. In bringing Cash along, was I only guaranteeing a continuation of the ongoing drama?
---
II
But not long after I resumed driving, some internal alarm system deactivated, and Cash settled down on the seat, head resting on his paws.
Upon our arrival at our cottage in Three Rivers, I unclipped Cash's belt harness and he hopped out of the car. Within seconds he had bolted, hurrying off to explore the lush garden.
Any kind of separations had usually been accompanied by fireworks. But not this time. A good sign, I decided, and perhaps the first of many.
After Varinder and I had settled in, we followed Cash down to a nearby river, the banks thick with silt from recent floods.
As I settled into the deck chair, Cash rocketed from sight.
"… Cash?" I called. His response came in the form of a joyous bark.
Turning in my chair, I saw him ten feet behind, digging a hole.
"What are you up to, you little mischief maker?"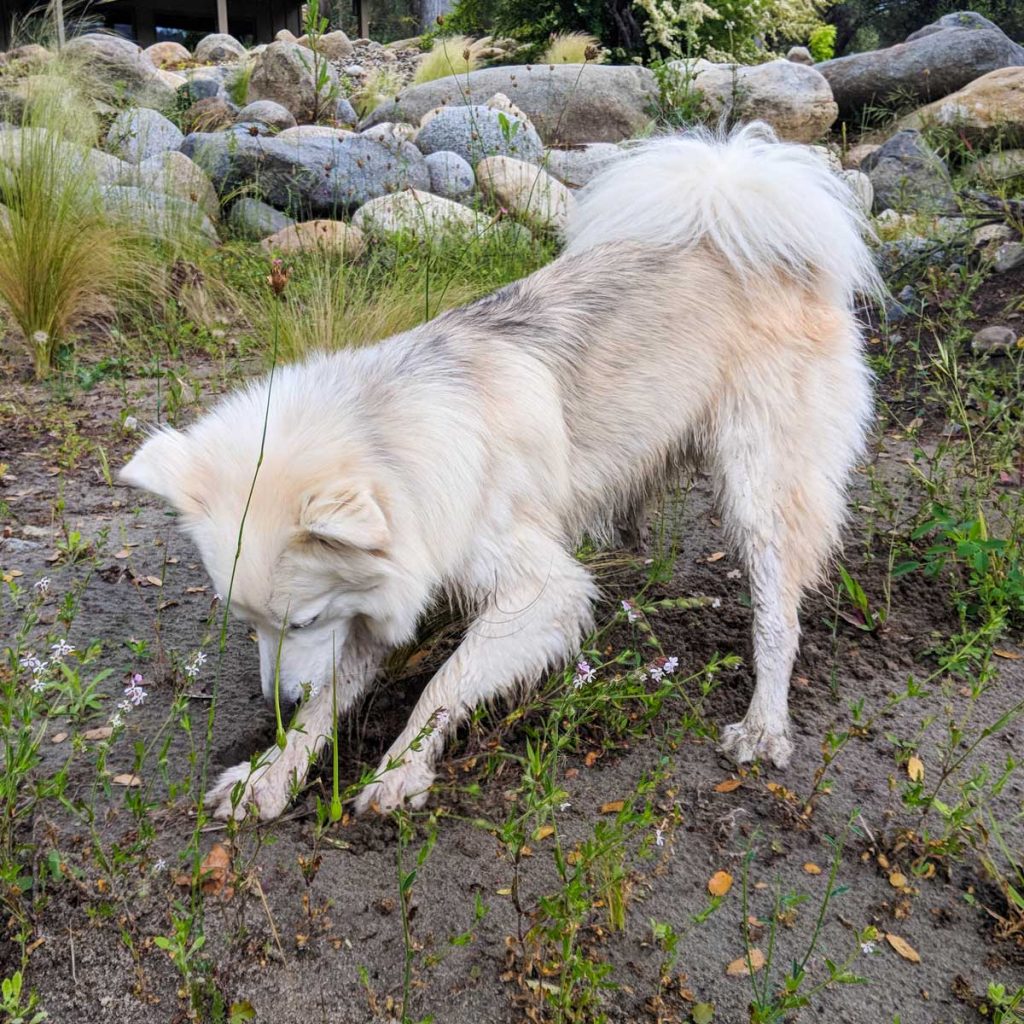 Cash looked up and barked again, in what seemed like invitation to admire his handiwork.
"This," I thought, "was the dog I signed up for."
After a restful night, lulled to sleep by the hushed babble of the river, I awoke to find my dog waiting by the door, eager to resume adventuring.
Scrubbing my eyes, I thrust the door open, letting in crisp morning air. Cash padded off to frolic in the dew-jeweled grass, not the least bit concerned by the fact I wasn't following.
Later, picking my way among rocks and pools of water, Cash reappeared, dipping one tentative paw into the water.
He faltered, perhaps in anticipation of immediate drowning. Barks of protest followed.
"Don't…leave me…behind…daddy!"
"Cash, you're being ridiculous," I said.
"Iz danger," went his reply. "Haz scared."
"Come on, you'll be fine."
After some pacing, Cash surrendered his fears and followed.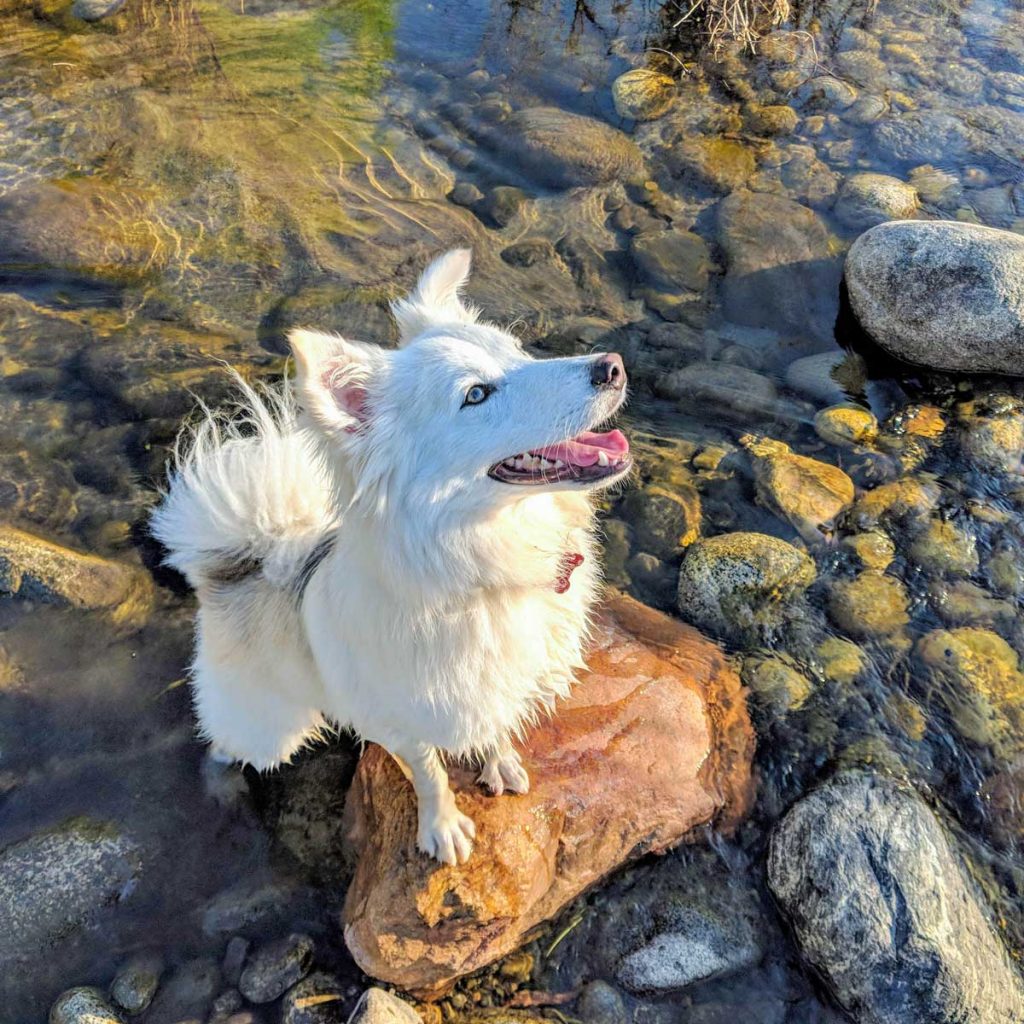 Progress. Yet with each step forward, Cash seemed to take another backward.
When the time arrived for Varinder and I to depart on our first hike, Cash resisted going into his crate, barking with the vehemence of a child sorely betrayed.
Still, what were the alternatives? During his worst spells of anxiety, Cash had chewed his way through a pillowcase, a book and a TV remote.
Who knew what acts of vandalism he might wreak if left to his own devices in a stranger's home?
Allowed to roam free on the property, my cityslicker dog would likely have gotten lost or picked a losing battle with a snake or coyote. Without me around to yank Cash's ungrateful behind to safety, the risk was certain.
Still, as Varinder and I departed, Cash's cries ringing in our ears, I couldn't help but feel a trace of guilt.
Our first hike of the day led us past lush gorges and a deafening waterfall. After, Varinder and I took a road up to the park's summit, then a path threading through fern-skirted sequoia groves, leading to a sweeping viewpoint of the valley below.
If life had meant to prescribe any antidote to my woes, it could not have picked a more sublime treatment.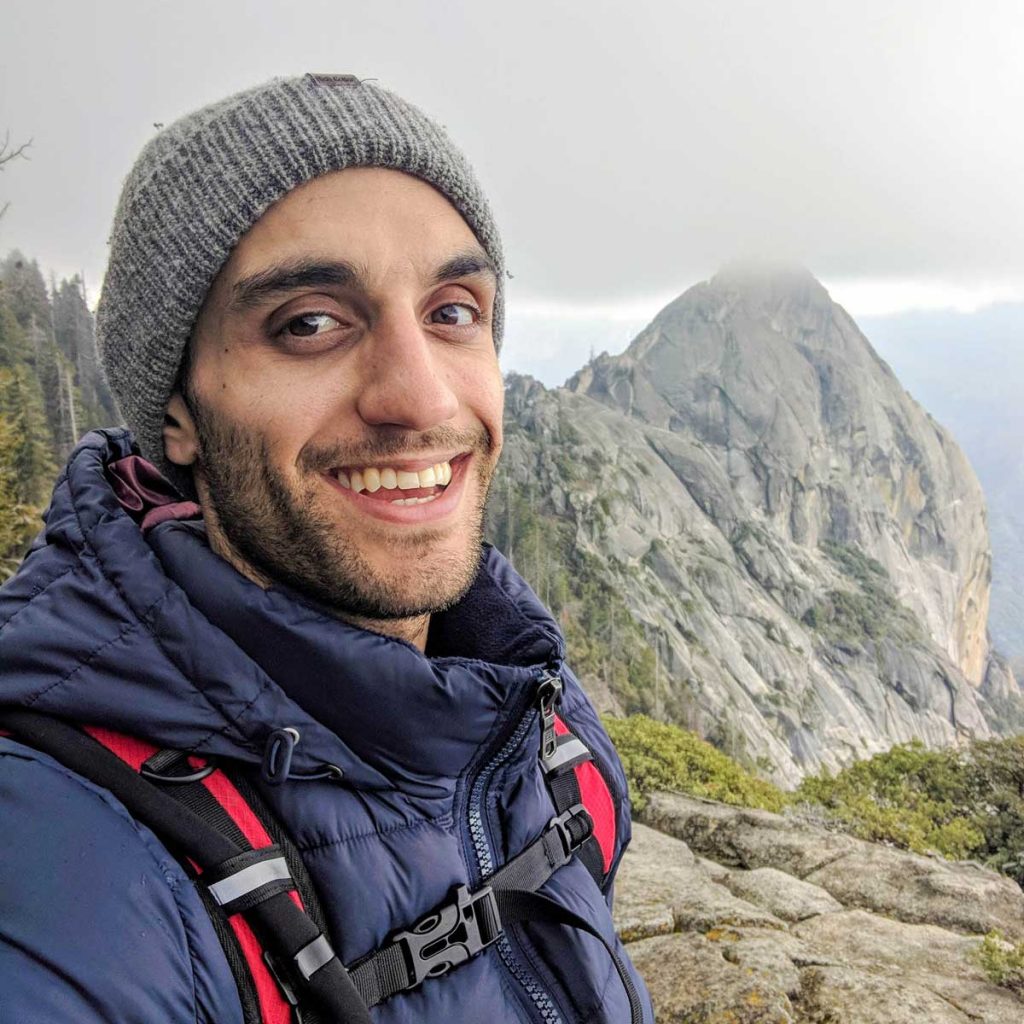 ---
III
That afternoon when we returned to the cottage, it was in a state of blissful depletion.
Cash reacted to our return by furiously scrabbling at his crate door and barking accusations. When I let him out, he threw himself at me, an explosive release of tension, before speeding out the door to do his business.
Wanting to cling to my state of relaxation, to nurse the warm glow of a day well-spent, I stretched out on my bed with a book.
Minutes later Cash returned, leaping onto the bed and planting himself squarely atop my legs, like a sandbag intent on keeping a marquee from blowing away.
Some might have considered this a cute display of devotion. If I had been content measuring Cash's love in body weight, this might not have posed a problem. As it was, however, he was crushing my shins.
"Get off, Cash," I said. My glare went ignored. So instead I tried dislodging him, without much success.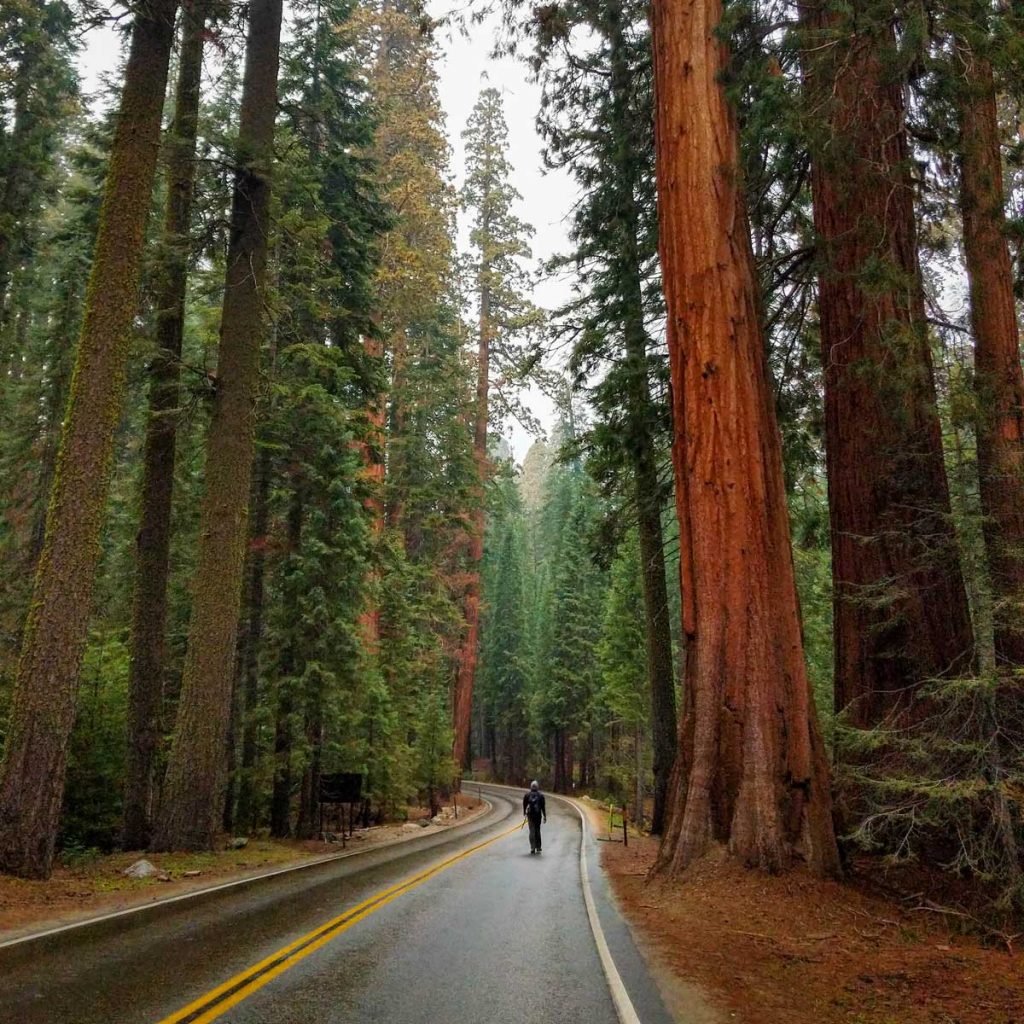 When it came to sitting on my bed, Cash usually didn't like to get too close, preferring instead if you had to stretch in order to pet him. Try to drag Cash within touching distance and he would only squirm away.
"Stay there and don't move," he seemed to be saying. "And if you want to snuggle, no. Sorry not sorry."
Yet if strangers came anywhere near me, he would always find some way to get between us. It was a possessiveness that suggested Cash wasn't my dog, but that I was rather his human.
The remainder of our mini-vacation Varinder and I spent in a reverie of hiking, reading, and drinking tea by the river, while Cash entertained himself with sniffing, digging and thrashing about in the bushes.
When it finally came time to leave, my regret was twofold. I didn't feel quite ready to leave the bubble of tranquility that was Three Rivers. It was as if a piece of the mental attic clutter I lived with had dislodged, making room for something that wasn't work or worry.
Yet much of that clutter remained. What I needed therefore was not a few days, but a few months to empty the junk and air out the space; to be in a place where downtime didn't feel like yet another commitment atop an already impossibly high stack.
Where sitting down meditation hadn't thus far worked for me, walking through the quiet sequoia forests had.
Instead of sitting in place, in a fast-eroding island of calm amid the hungry seas of daily demands, I had found peace in simply getting from here to there. Instead of trying to manipulate my unruly thoughts, I had embraced their release.
Dr. Kukosian had been right in urging me to try and change my living circumstances. She had also been right in insisting I give my mind the opportunity to heal.
But normal stratagems hadn't sufficed. And if my time away from Los Angeles had taught me anything, it was that any solution would have to be hand-tooled and of my own careful devising.
To see Cash filled with such ebullience during our stay had suggested that perhaps his case was no different. Over a few days, he had been transformed – if only temporarily – into one which, under more ideal conditions, he might have otherwise become.
There was a possibility, therefore, that if I scratched the surface of our difficult existence hard enough, I'd find something like balance waiting just beneath.
---
Anxious Seeks Canine continues with Part 13: 'Casu?'.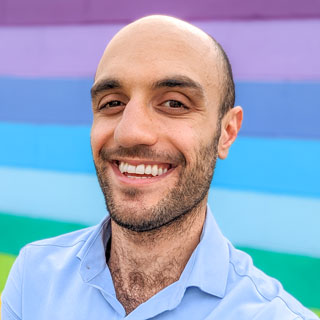 Essy Knopf is a budding social worker interested in best practices and exploring gay and autistic experiences. Subscribe to get all new posts sent directly to your inbox.
© 2023 Ehsan "Essy" Knopf. Any views or opinions represented in this blog are personal and belong solely to the blog owner and do not represent those of people, institutions or organizations that the owner may or may not be associated with in professional or personal capacity, unless explicitly stated. All content found on the EssyKnopf.com website and affiliated social media accounts were created for informational purposes only and should not be treated as a substitute for the advice of qualified medical or mental health professionals. Always follow the advice of your designated provider.