Anxious Seeks Canine – Part 4: 'See Cash? Like this'

Reading time:
7
minutes
Anxious Seeks Canine is a memoir blog series about a gay man living with Asperger's, mental illness, and the relationships that may very well be fueling it. Names and identifying details have been changed to protect the privacy of all featured individuals. Except for the dog. Here's part 1, 2, 3, 4, 5, 6, 7, 8, 9, 10, 11, 12, 13, 14, 15, 16, 17, and 18. Subscribe for more posts.
---
I
With Derrick gone, I fumbled towards the appearance of equilibrium.
My employer agreed to put me on part-time hours so I could focus on a few side projects. Superficially, conditions changed, and yet the very same thing that had first propelled me towards Derrick did not.
Not a desire to be cared for as such, but rather, the inability to look after my own wellbeing. I was still a devout workaholic, cooking up responsibility after responsibility for myself.
For weeks on end, I would work around the clock, rarely taking breaks for socializing, leisure activities, and exercise. I'd eat at my desk, and when there wasn't even time for that, I'd skip meals entirely.
Adopting a dog was my attempt to embrace a more well-rounded, enriching life. It would, so I told myself, be opening the door to the company and peace of mind I'd long denied myself.
And there was also the fact that I did, and always had, loved dogs, so much so in fact that I often preferred their company over that of other human beings.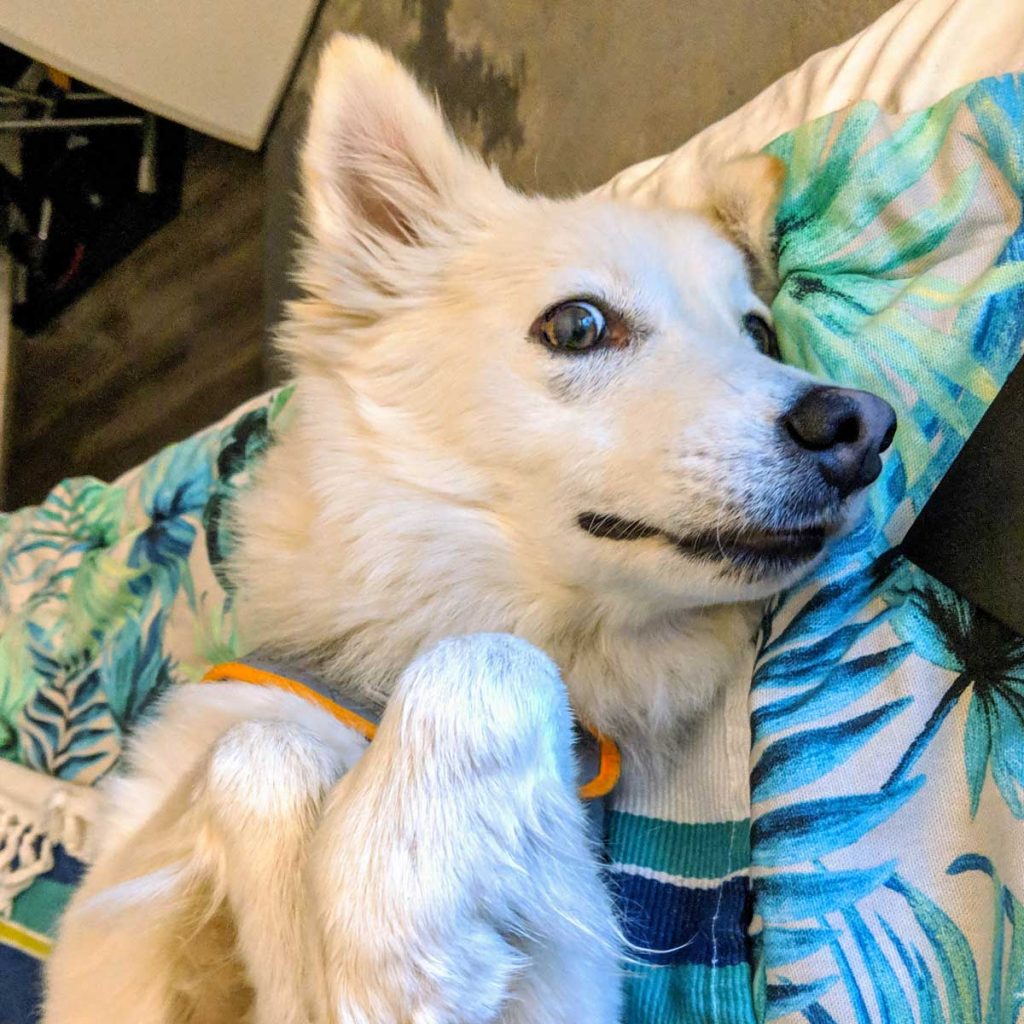 Cash arrived at my home in what I believed to be a lull in life commitments, but what was in truth a franticness of my own making.
While trying to meet multiple writing deadlines, I was also finalizing the release of my first feature documentary. Cash's adoption added yet another stressor to the equation.
When you tell people you want to get a pet, some may try to caution you: "It's not going to be easy."
"Well," I'd thought, "point me to a single thing in life that is easy."
The absence of fine print disarms you. Yet I, ever the responsible pet owner, had vowed to be as informed as I possibly could with the help of my trusty friend, Google.
The forum posts I read warned the first few days would be rocky. A bit of tummy upset, a possibility of separation anxiety. But Google alone could not have possibly prepared me for what was to come.
The first week, I was woken every day at 7 am to the frantic sound of nails against fabric. This was the sound of Cash trying to escape his foldable dog crate.
The walls shook and bulged in what looked like a cartoon punch-up. Cash's shrill machine-gun barks suggested he was enduring some heinous form of torture, rather than mere separation by canvas.
No sooner had I managed to work the zip open an inch than he was launching himself out like a fur cannonball.
The crate was meant to serve in principle as his "den" – a place of rest and familiarity. But to Cash, it was the equivalent of an iron maiden.
To me, it was a sea wall holding back waves of diarrhea.
Cash, I had been told, was housebroken. Yet the stress of the adoption – and his recent surrender by not one, but as I later learned, three owners – had thrown all of his training out of whack.
Having a dog and being mildly OCD were two things that did not mix well. Still, if being occasionally triggered was the only cost of a cute dog's company, it was one I was willing to pay.
But after climbing out of bed in the middle of the night and stepping into a foul-smelling puddle, I'd decided it was time to try containing the issue.
---
II
I had entered dog ownership knowing there might be complications. But I had also gone into it expecting an emotional support pet…only to find myself becoming a dog life support system.
Years prior, I'd witnessed the antics of a friend's equally needy dog and vowed I'd never adopt an animal like that. And here I was new with a puppy who nudged me the second I stopped patting him.
My expectations may have been unrealistic, following as they did the high bar set by our household dogs.
The first, Kimi, slept beside my crib when I was a baby. The instant I awoke crying, he would go into my parent's room and wake my mother.
On weekend picnic trips with my family to a local river, I'd push Kimi into the water, cling to his tail, and wait for him to tow me to the far side like a dutiful rescue dog. Never mind he was half the size of his lookalike Lassie.
I mean, what was not to love?
As for his successor, Rumi, he had been a gentle, refined creature who could only be stirred to a state of excitement by my mother's return from work.
Early on, I learned he could be duped by a single phrase: "Mummy's home!" Within seconds, his gullible bottom would be waggling.
Rumi's worst offense was howling when left alone. Compared to Cash's daily hysteria, Rumi's crooning was a deeply moving show of love and loyalty.
Notwithstanding the fact Cash was lacking the same degree of charm as my previous dogs, his "accidents" would have been forgivable had he been actually capable of going potty outside.
The closest thing to "outside" Cash had ever known it seemed was a suburban yard, with none of the distractions and threats of a street frequented by people and other pets.
Each outing thus proved fraught. The sight of people, other animals, or babies sleeping in their strollers would often spark bouts of temporary madness.
Cash would growl at anything that moved, bark at every approaching figure, lunge at other dogs. Having never been lead-trained, he would pull me down stairs, into walls and car doors with careless abandon, leaving me with an assortment of cuts and scrapes.
When we finally did get to a grassy verge that served as a toilet for the neighborhood dogs, Cash would just stand there. Sometimes he might pace, other times he would sniff the leavings of his predecessors. But he would not, for reasons I could not fathom relieve himself.
After twenty minutes of exasperated waiting, I'd take him back up to the apartment. Before long, however, Cash would be at the door, crying to be let out. Up and down the stairs we would go, over and over again, with nary a bowel or bladder movement.
I wondered if I was being subjected to some kind of canine mind game. But then I would look into Cash's gentle eyes, and my exasperation would soften into pity.
---
III
One day, upon returning from my seventh lap to the grassy patch, I found my own bladder was full. As I stood at the toilet relieving myself, Cash entered the bathroom, hunkered down on the bathmat, and urinated in tandem.
Cutting myself off mid-stream, I turned and gave him a look heavy with disapproval.
Cash for his part stared up at me in what appeared to be guilt…or perhaps blame. I'd made him wait, after all, inflicting my unreasonable expectations upon him.
This? This was payback.
The stair-climbing routine began to grind on my nerves. I was facing down multiple deadlines, and to make matters worse, I was still ill.
Over the past few days, I'd coughed so hard I was pretty certain I could now see my abs. It was a first, but one I wish I had only achieved by virtue of exercise, rather than repeated attempts to lose a lung.
The combined stress sent me into a downward spiral of dog shaming.
"Pee or do not pee!" I caught myself screaming at Cash. "There is no try!"
My wisdom, however, fell on deaf ears.
Once more, I turned to the forums for help. One post suggested I could fix Cash's problem by collecting a sample of Cash's urine and using it to "mark" the desired spot.
Ever the dutiful parent, I squeezed the contents of a puppy training pad into a jar. I took Cash downstairs, dribbled the pee onto a patch of brown, stunted grass and told Cash to go potty.
Cash didn't so much as look at me. Instead, he sniffed at a passing homeless woman, pushing a trolley laden with garbage bags at the far end of the block.
"Cash! Go potty."
Still he ignored me.
Growing up, I'd seen parents accompany their toddlers into toilets. The idea of guiding anyone through such a process had revolted me. Helping someone perform a basic biological function? No thank you.
But what choice was left to me now? The situation called for desperate measures.
Checking to see the coast was clear, I lowered the front of my pants and urinated. Not a full stream mind you – just a few discreet squirts.
"See Cash? Like this."
Cash looked at the pee puddle, then his attention returned to the homeless woman.
I had just publicly exposed myself – all for the sake of my dog. But if I was expecting gratitude, I certainly wasn't going to get it.
---
IV
It was some days before Cash mastered outdoor peeing. Around this time the fount of diarrhea dried up, and now he was suffering from the exact opposite problem.
My relief was swiftly replaced by concern. So, back to the online forums I went.
One post suggested I give Cash some pureed pumpkin to help move things along. What it mostly did was earn me some serious canine side-eye.
Cash's symptoms were, as it turned out, psychosomatic. He was a very anxious dog, and his anxiety prevailed long after most dogs would have otherwise "settled in".
Losing sight of me sparked for my pet what sounded like an existential crisis, every departure and arrival greeted with a furious storm of barks.
A dog training website told me I should ignore Cash until he calmed down. Yet my snubs only made him double down with the protesting.
Another site suggested I desensitize Cash to all the familiar cues of my leaving. I began jingling my keys at random intervals. I'd go through the motions of putting on my clothes and shoes before sitting back down at my computer.
Each time, Cash would leap up as if he'd just heard an air raid siren. If I dared move, he would stick to me like a piece of Velcro. If I closed the door on him, he would bark incessantly. It was like having the world's clingiest boyfriend.
One morning, tired of my dog's bottomless need, I decided to try sneaking away. As I quietly prepared to head out for work, I paused to listen. Cash seemed to be still sound asleep in his crate.
Finishing dressing, I crept over to the door, unlocking it. Carrying my shoes out into the hallway, I eased the door closed.
It was two inches from the jamb when a sneeze came on. I tried to hold it in, but the effect was like trying to swallow a sneeze: all the air went out my nostrils.
Snot geysered, dribbling only my chin.
And just like that, my cover had been blown. The apartment rang with a series of high-pitched yelps.
Scrape-scrape-scrape went Cash's nails against the canvas as the crate bounced in place.
Sighing, I closed the door and walked away.
---
Anxious Seeks Canine continues with Part 5: 'Doesn't like cuddles'.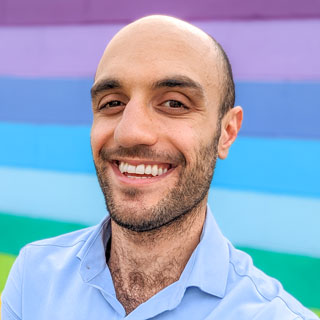 Essy Knopf is a budding social worker interested in best practices and exploring gay and autistic experiences. Subscribe to get all new posts sent directly to your inbox.
© 2022 Ehsan "Essy" Knopf. Any views or opinions represented in this blog are personal and belong solely to the blog owner and do not represent those of people, institutions or organizations that the owner may or may not be associated with in professional or personal capacity, unless explicitly stated. All content found on the EssyKnopf.com website and affiliated social media accounts were created for informational purposes only and should not be treated as a substitute for the advice of qualified medical or mental health professionals. Always follow the advice of your designated provider.