Anxious Seeks Canine – Part 3: 'You're weird'

Reading time:
6
minutes
Anxious Seeks Canine is a memoir blog series about a gay man living with Asperger's, mental illness, and the relationships that may very well be fueling it. Names and identifying details have been changed to protect the privacy of all featured individuals. Except for the dog. Here's part 1, 2, 3, 4, 5, 6, 7, 8, 9, 10, 11, 12, 13, 14, 15, 16, 17, and 18. Subscribe for more posts.
---
I
"Why do you want to date me?" The question hung in the air for a few awkward seconds. Derrick scrambled to find an answer.
"… Because I like you," he said, his face devoid of emotion.
"And why do you like me?" I was like the four-year-old who'd just discovered the word "why". Once I started, I absolutely refused to stop.
"You're weird," Derrick replied. "I like that." As good a reason as any to be with someone, I suppose?
What Derrick had failed to articulate, however, was that I was there – and that was enough.
Whether we were actually compatible was a question to which Derrick was not interested in devoting his attention. And I accepted this. Broken, complicated ol' me. Probably didn't deserve any better.
You see, when I met Derrick, I was recovering from the worst illness of my life. Since my teen years, I had struggled with an undiagnosed gut disorder.
For a decade, I had believed my symptoms – gas, bloating, constipation, diarrhea, eczema, fatigue, severe mood swings – to be the result of gluten intolerance. After removing gluten from my diet, these symptoms improved but didn't resolve completely.
Gradually I removed other possible offenders like dairy, with varying degrees of success.
After years of on-and-off illness, I made an appointment at a leading allergy clinic. Every single test came up negative.
At one specialist's suggestion, I adopted a diet eliminating naturally-occurring food chemicals: salicylates, aminos, and glutamates, which can be found in anything from fruits, to cheese, chocolate, and sauces.
While these chemicals can cause reactions in some people, they didn't appear to be a source of bother to me. Next I trialed going off animal products altogether…only for the symptoms to intensify.
A large red rash appeared on my back, and neither anti-fungal or cortisone creams could persuade it to go away. My gut became permanently distended, prone to swelling every time I ate.
With my health in shambles, I had no choice but to cut back completely on dating.
---
II
WebMD told me I was probably suffering from a condition called irritable bowel syndrome (IBS).
IBS was a somatic condition linked to anxiety and depression, and given my predisposition to the latter, this made me an ideal candidate. Notwithstanding the fact that feeling like I was in the third trimester of pregnancy wasn't depressing in its own right…
A doctor confirmed the diagnosis and suggested I undergo a test for a secondary condition called small intestinal bacterial overgrowth (SIBO).
The results confirmed that I had indeed had well and truly become a human incubator for single-celled organisms. At last, I had an explanation for my symptoms.
Where IBS could be treated with ongoing dietary restrictions, SIBO required antibiotics. A couple of weeks of treatment reduced my gut to its normal size, only for new symptoms to emerge: chronic fatigue, followed by dizzy spells.
After petitioning my doctor for help and receiving a handful of taciturn emails, I flew to Australia to stay with my folks while trying to figure out what the hell was happening.
A helpful country town doctor put me through a battery of new tests. Receiving the results was like opening a grab bag, only to find a cluster bomb.
IBS and SIBO had left my gut ravaged, and in their wake some kind of parasite had set up shop, requiring yet another course of antibiotics.
On top of this, I was suffering from a Vitamin D deficiency, on account of all the sunlight I was not getting from lying in my sickbed.
But the kicker was that the cause of my chronic fatigue was something altogether unrelated: infectious mononucleosis – the so-called "kissing disease".
Turns out I hadn't been wrong to stop dating, only that I probably should've done it sooner. In my ailing condition, I had sought comfort in the wrong person, and he had given me a case of mono. It had been a teen rite of passage, a decade too late.
I swung very suddenly from a state of chronic fatigue to one of chronic embarrassment.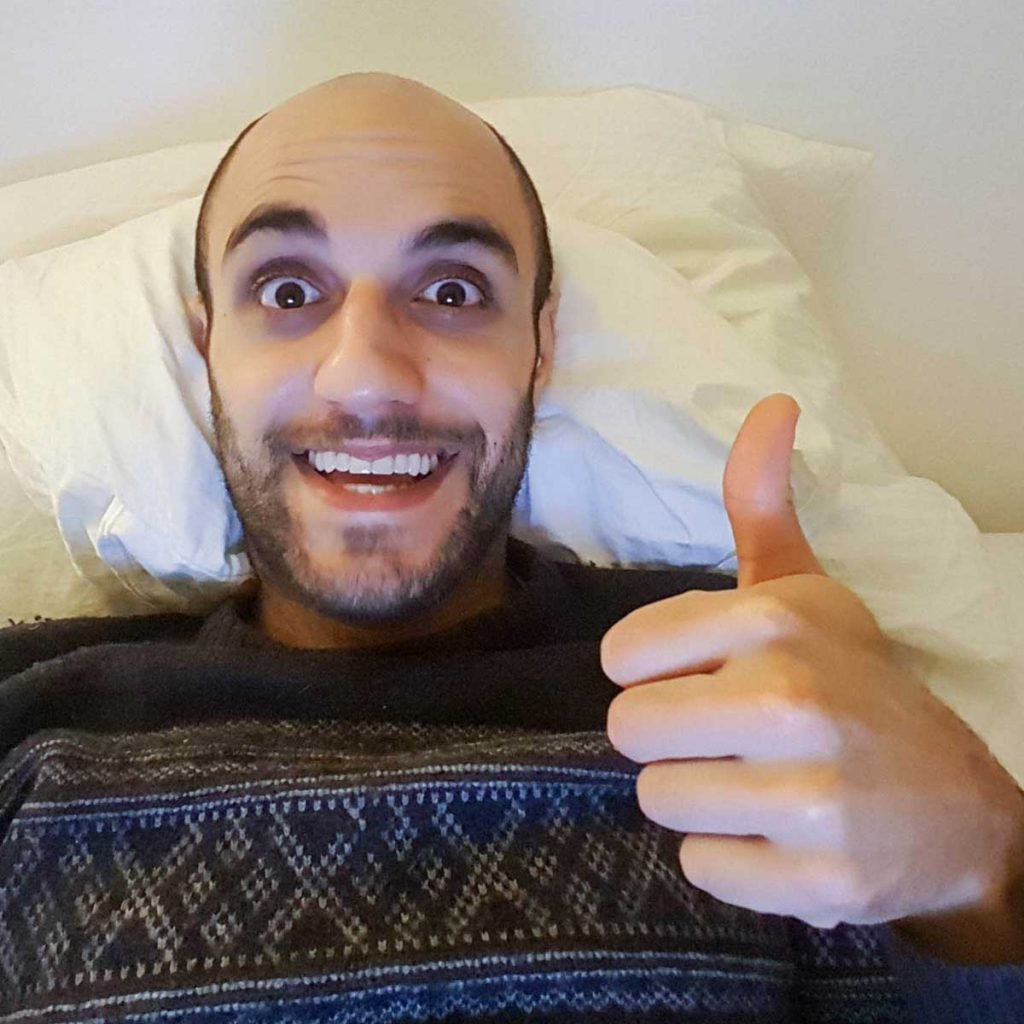 ---
III
Still only partially recovered from my illness, I returned to Los Angeles. To say the experience had left a dent in my spirit was something of an understatement.
Look people – I almost died. Almost. Well not exactly. But I COULD have died. I could die anytime, as a matter of fact. Is that a lump I feel in my armpit?
Being so sick had only heightened my existing anxiety, leaving me overwhelmed. It might've helped if I'd had friends or family around to care for me in LA, but I was a newcomer to the city.
Any surprise then that I warmed so quickly to Derrick. From the very beginning, he lavished attention on me, taking me out to dinner at least twice a week.
He was solicitous about my health, swearing I could always count on him for help. It was the kind of care I'd secretly longed for.
Other people fantasize about filthy rich dreamboats, but not I. What I wanted was a nurturing parental figure who doubled as a part-time chef. Realistic, I know.
But Derrick couldn't have been any less equipped to provide that, given he himself wanted to be parented. By the three-month mark, suspicion had set in.
Derrick had a mantra he liked to repeat, usually every day, sometimes at three-minute intervals: "I'm tired". I'm not entirely sure what he wanted to accomplish by telling me this.
Around this time, Derrick also shifted from charm offensive to preoccupied and avoidant. We went from eating out every second night to not eating together at all.
While I could make do without bribery by takeout, a complete lack of companionship was pushing it.
At first, I tried sympathy. When Derick continued to complain about being tired however, I changed tactics. I bought a shirt with the phrase printed on it and gifted it to him, "so he wouldn't have to keep telling me".
Derrick was so offended he threw the shirt into the bottom of his closet. There it remained, until I, tiring of my boyfriend's tiredness, dug it out and wore it myself.
They say there are five stages of grief. When I broke up with Derrick, I discovered a sixth: absurdity.
In the week after, I'd broached the subject, and Derrick had airily declared he was "done with this relationship". "This relationship" being the one from which he'd quickly become absent anyway.
With that, he had stalked from the room, only to reappear moments later to ask if I would mind his dog over the weekend. When pressed for an explanation, he said he was going away on a road trip to Vegas – and I was not invited.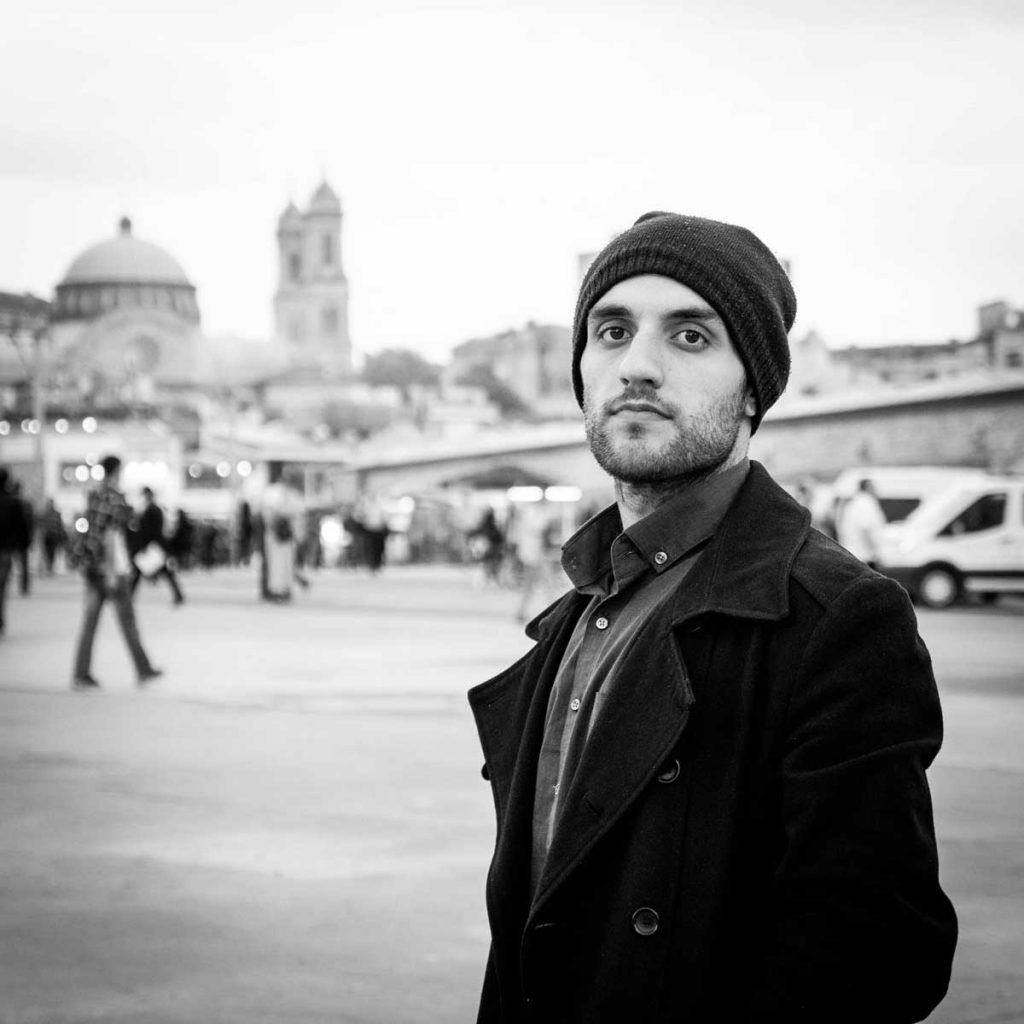 ---
IV
To his credit, Derrick made a few tangential attempts to ingratiate himself after the breakup. Once, he dangled the possibility of ex-sex. Another occasion, he coyly asked if he could wear my hat…because he "liked it".
Once I even caught him spritzing himself with my cologne, as if he were trying to savor my soon-to-be lost odor. It was almost too painful to watch.
Having weathered Derrick's outbursts, forgiven his shortcomings, and soothed his insecurities, I'd been forced to overlook my own needs, until at last my reserves of empathy had finally run dry.
Soon I began drawing lines in the hardwood. When I caught Derrick trying to smuggle yet another bland mid-century credenza into our apartment, I responded simply with: "No".
Derrick hadn't allowed me to bring my own furniture into his home, telling in me in uncertain terms that it looked "cheap". To diss my taste in furniture was one thing, but furnishing his apartment without my input? Unforgivable.
When Derrick insisted on keeping his latest acquisition, I wrapped a clawhammer in newspaper and placed it atop the credenza.
I'm not entirely sure if I'd "nailed" the Godfather reference, but the next day, the credenza was gone. Still, the little battles waged on.
Derrick had a habit of burning California white sage in the house in the place of air freshener. The smell had a rancid quality which he seemed to favor over that of his dog's various messes.
It was an odor that happened to leave me with blinding headaches, such that I was forced to keep the door to my room closed. During the Vegas trip, I started throwing out every bundle of the stuff I could find.
The day before Derrick returned, while doing his laundry for what felt like the fiftieth time, two twenty dollar notes fell out of Derrick's jeans pocket. I didn't hesitate, pocketing it as compensation for all the thankless janitorial duties that had been fobbed onto me.
This moment turned out to be the last high point in our steadily declining relationship.
Did I linger to savor it? No. What I did instead was divide our Q-tip supply into two neat piles, stuff my share into a zip-lock, and departed his life as fast as humanly possible.
---
Anxious Seeks Canine continues with Part 4: 'See cash? Like this'.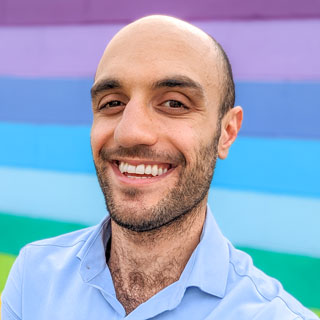 Essy Knopf is a budding social worker interested in best practices and exploring gay and autistic experiences. Subscribe to get all new posts sent directly to your inbox.
© 2022 Ehsan "Essy" Knopf. Any views or opinions represented in this blog are personal and belong solely to the blog owner and do not represent those of people, institutions or organizations that the owner may or may not be associated with in professional or personal capacity, unless explicitly stated. All content found on the EssyKnopf.com website and affiliated social media accounts were created for informational purposes only and should not be treated as a substitute for the advice of qualified medical or mental health professionals. Always follow the advice of your designated provider.