Anxious Seeks Canine – Part 8: 'Why not bite?'

Reading time:
6
minutes
Anxious Seeks Canine is a memoir blog series about a gay man living with Asperger's, mental illness, and the relationships that may very well be fueling it. Names and identifying details have been changed to protect the privacy of all featured individuals. Except for the dog. Here's part 1, 2, 3, 4, 5, 6, 7, 8, 9, 10, 11, 12, 13, 14, 15, 16, 17, and 18.
---
I
Our visit to the small dog enclosure proved brief. No matter how many dogs snarled at Cash, he didn't seem to get the message, but instead kept on with the pushy behavior, ruffling fur wherever he went.
After an ancient, hairless creature that might have once been a Yorkshire Terrier screeched at Cash, I hurried out of the enclosure, my cheeks burning, Cash trailing behind me.
One way or another, however, I was determined to see my dog socialized. Not eventually, but today.
Despite my exasperation, I persevered. Reattaching Cash's leash, I hustled him to an adjoining enclosure more than three times the size of the first.
Here, I told myself, Cash stood less of a chance of dwarfing his peers and thus intimidating them.
A Labrador bounded over keen to meet the newcomer.
"Go on Cash," I said, snapping off the lead. "Go say 'hello'."
Cash padded forward, sniffed delicately at the Labrador's behind, barked once, then raced back to my side.
His gaze rose to meet mine, in what I took to be entreaty.
"What?" I said. "What's the problem?"
Our visit to the dog park was meant to be a fun break – for the both of us. Cash was supposed to play with total abandon while I caught up on some much-needed leisure reading.
Instead, I was being asked to reassure with my presence, to hover like a helicopter parent. Where in the previous enclosure, the somewhat oversized Cash frightened away potential playmates.
Now, without the advantage of size, he had promptly reverted to the ol' Velcro dog routine.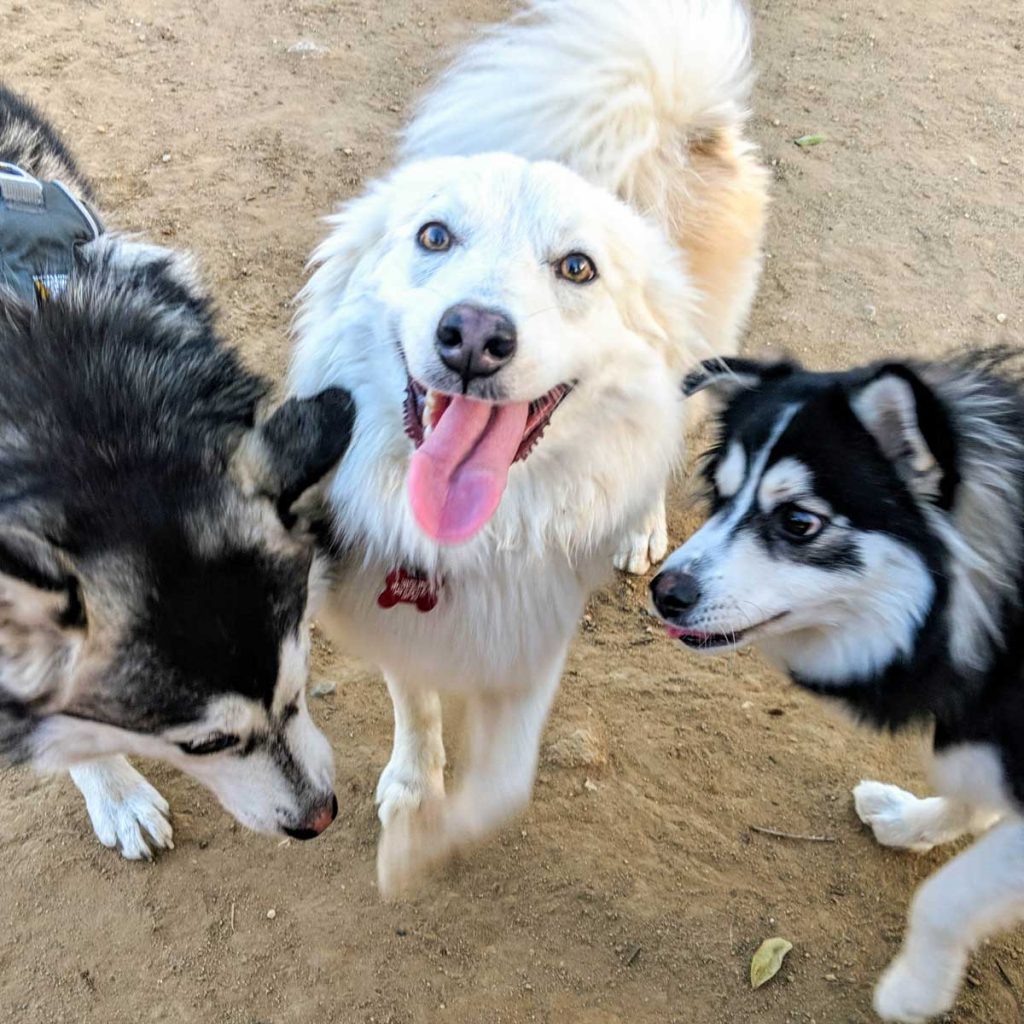 Perhaps Cash merely didn't know how to play. Elementary as such an ability seemed, it was a line of inquiry warranted further exploration.
To this effect, I dropped into a play crouch. Cash mimicked me. I waited a moment, my eyes locked with his, then shot away.
"See," I said, as Cash scampered after me. "You do know how to – Hey! What the hell?"
Cash had just tried biting my ankles. He zipped past, circling back. Again he looked at me, no doubt attempting some form of telepathic communication.
"Why not bite?" I could almost hear him thinking. "Is fun."
Fun, but a tactic bound to alienate. This was something that would definitely have to be worked on.
"Come on," heaving a sigh. I led him over to meet a German Shepherd.
"Hey buddy!" I called. Ears raised, tongue lolling, the dog turned to look at me. "Cash, be friendly."
When Cash, who was cowering behind me, did not budge, I added: "He's not going to hurt you. Go on already."
Raising my voice didn't seem to help matters. Perhaps a more competent owner – A kind soul with deep reserves of patience, an empty schedule, and money to throw at a trainer – would have known what to do.
This was what Cash likely needed, but right now, all he had was me, with my worryingly low bank account balance, homespun advice gleaned from internet forums and less than stellar parenting techniques.
Puppy training school? He could just forget about it. But tough love? That was something his stingy daddy had in spades.
It was time I put my formidable skills to practice.
"Alright Cash," I said, shooing my pet forward. "You're on your own now. Start paddling."
---
II
Ignoring the German Shepherd, Cash did a cursory circuit of the nearest canine social circle, before returning to my side.
On I went with the shooing, until at last my dog ventured out on his own. It was possible I was forcing my child to run before he could walk, for very quickly Cash went from ignoring other dog's friendly advances to snarling.
"Okay, crazy," the other dogs' expressions seem to say. And off they would trot to play with someone else.
Mustering his courage, Cash resumed his previous mounting routine, sizing up potential victims before swooping in.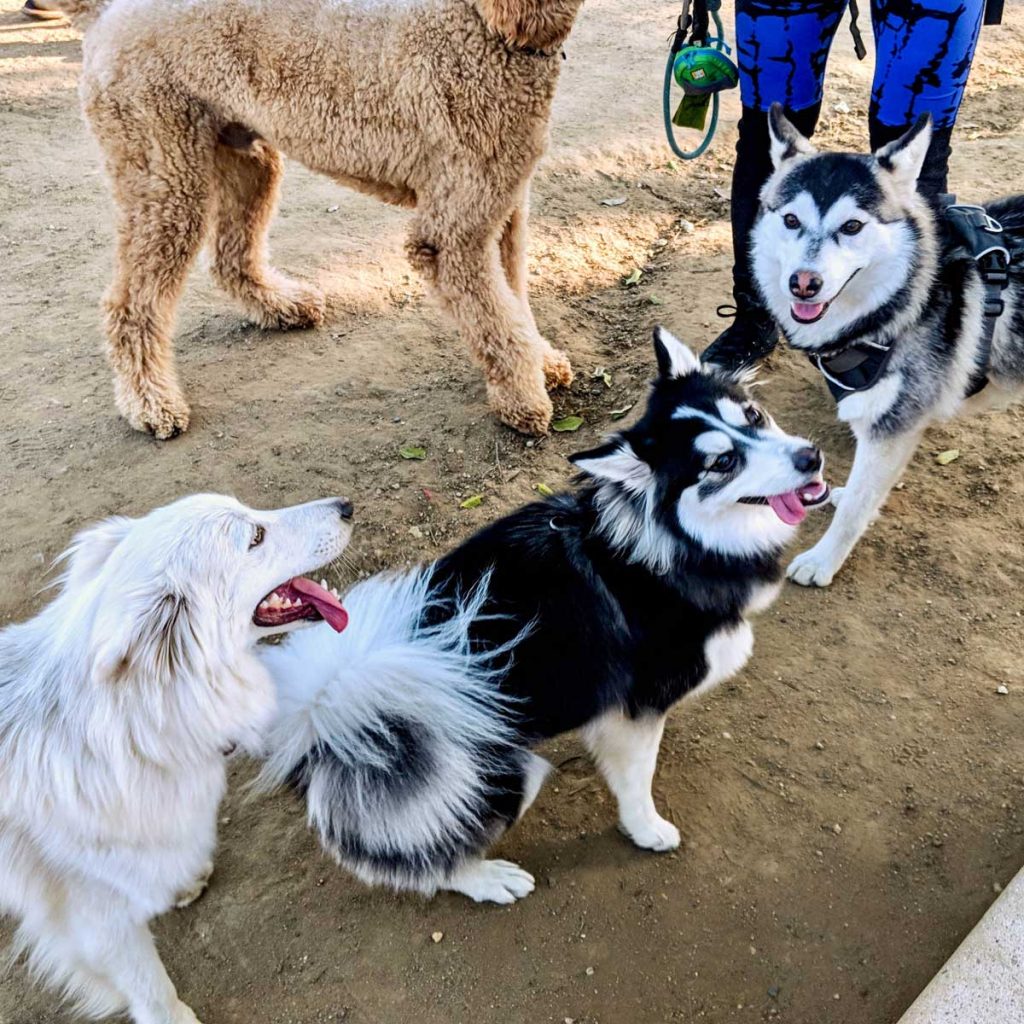 "Hey!" I shouted as I pulled cash off a Beagle. "Cut that out."
Cash went off in a huff, laying claim to a water bowl currently in use by a Husky.
"Mine! Mine! Mine!" he barked, before diving in to claim it for himself. When a bull terrier tried to join him, Cash resumed the barking.
"That's enough," I snapped. "Leave them alone."
When my attempts to summon Cash to my side went ignored, I grabbed him by the collar, chaperoning him away.
Not long after, Cash took an interest in an Australian sheepdog, crouching and barking. There was none of the usual tail wagging one might have expected; rather, he had all the focused intensity of a schoolyard bully.
The sheepdog didn't respond; merely threw Cash a cursory look and wandered away.
Clearly, Cash's tactics weren't doing him any favors.
When he wasn't being bossy, he would sit on the sidelines, forever awaiting the chance to insert himself; a chance that never seemed to come.
In my dog's hesitation, I saw my seven-year-old self, standing at the edge of a sandpit, while the other kids – engrossed in their own play – ignored me. Me, the oddball who talked to insects. The nature boy who longed for friendship; a thing whose mechanics eluded me well into adulthood.
And while I'd long stopped communicating with six-legged creatures, the insecurity that I would never truly understand others, nor they understand me, had remained.
But my fate was not one Cash need share, a belief that was renewed in the few instances when both he and the other dog play bowed and burst into a game of chase.
It didn't take long however for the same worrying behavior I'd witnessed earlier – the heel nipping – surfaced again. It was a habit that elicited annoyance, and even yelps, bringing the pursuit to a swift close.
"That's, like, a cattle dog thing," one dog owner advised me, as she motioned her brown labradoodle to sit.
Googling "Husky-Corgi" on my phone revealed she was right. Cash's tendency to drag me as if I were some kind of human sled down I'd attributed to Cash's Husky side.
But the barking and heel-biting – that likely had its origins in his other Corgihalf. Corgis were bred to herd cattle, and this, I reasoned, was why Cash tried to strong-arm every Great Dane he came across.
Maybe their cattle-like size was sparking my dog's latent herding instinct?
If my awkwardness was the result of my being on the autism spectrum, then Cash was equally the product of his genes. No squirt from a spray bottle, therefore, was going to salvage a nature as deeply ingrained as his.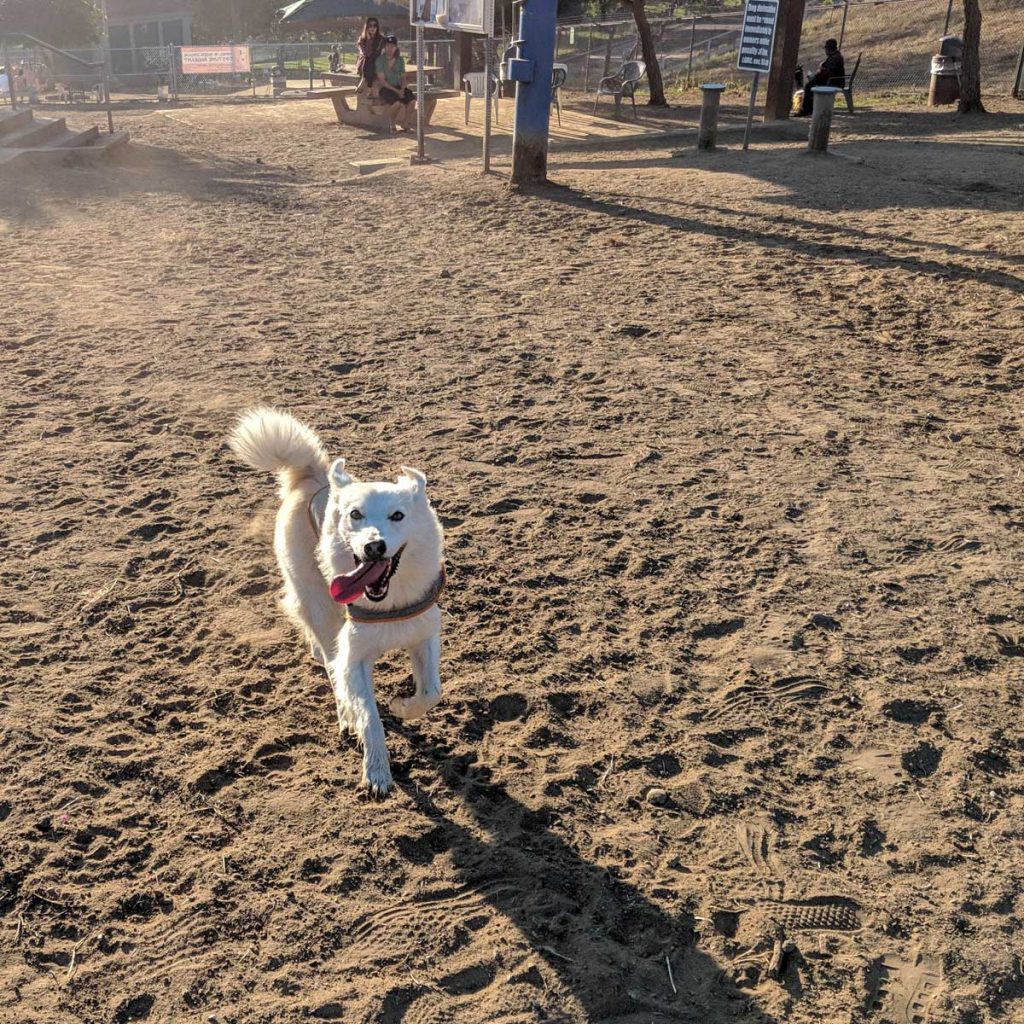 ---
III
Still, I wasn't going to let any child of mine was going to terrorize others – not on my watch. I knew, after all, that it was only a matter of time before one of Cash's victims turned on him. And it didn't take long.
During a later visit to the large enclosure, Cash tried to mount a mutt three separate times. By the third time, the mutt had had it and turned on Cash.
Before I knew what was happening, the two were snapping at one other, then Cash was on his back, squirming like an overturned turtle, as his opponent loomed over him.
Somehow I managed to drag my dog away, scolding him. But if Cash was meant to learn something by my admonishment, he certainly didn't.
The incident repeated just moments later with a second dog. Fed up, I clipped Cash's leash to his collar and marched him back to the car.
If anything was going to change, new measures would need to be taken.
When I was back home at my desk, I ordered a training collar equipped with a beep and vibrate feature. Remote controller in hand, I would now be able to catch Cash out the very instant he acted up.
But on a return visit to the dog park, Cash simply ignore the beeping and thrumming of the collar.
Next I tried dialing the shock down to the lowest setting, then zapped myself. The sensation, wasn't technically painful, but it was alarming enough to get Cash's attention.
Yet once I fitted the collar, it became apparent that the collar's prongs barely penetrated Cash's thick fur. The few occasions it did, Cash seemed to associate the resulting shock not with my disapproving "No!", but rather with the dogs he was harassing.
Wariness swung into open hostility. Like clockwork, Cash would approach another dog, forgetting to wag his tail and going rigid with tension.
The other dog would either walk away or growl. In the latter case, Cash would growl back, and I would quickly intervene. If we were lucky, the conflict would end there.
Upon further reflection, Cash didn't seem so much to be an antagonist by nature as someone with a severe Napoleon complex. He responded to his own fears by overcompensating, charging headlong into confrontations, and body-slamming fences.
Certainly, one could admire his persistence in the face of all this rejection and hostility, a quality I associated with my own survival. And yet, now that it wasn't me in the spotlight, I could admit how that very same quality was driving potential allies away.
People told me I could be stubborn. Obviously they hadn't met Cash, who was by far my superior in that regard.
And for all my efforts to corral and correct, nothing seemed to take.
My dog, I decided, was the cosmos testing my mettle – and finding it sorely lacking. Not knowing how to do better, I redoubled my efforts. But trying to coerce Cash into becoming something he was decidedly not – namely, an obedient, well-adjusted dog – was, as I would later realize, an effort bound to fail.
---
Anxious Seeks Canine continues with Part 9: 'A short-term solution'.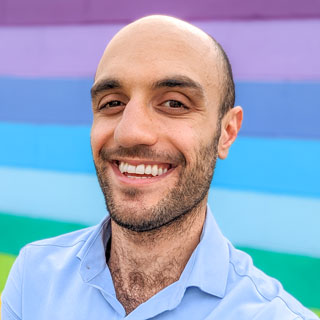 Essy Knopf is a budding social worker interested in best practices and exploring gay and autistic experiences. Subscribe to get all new posts sent directly to your inbox.
© 2023 Ehsan "Essy" Knopf. Any views or opinions represented in this blog are personal and belong solely to the blog owner and do not represent those of people, institutions or organizations that the owner may or may not be associated with in professional or personal capacity, unless explicitly stated. All content found on the EssyKnopf.com website and affiliated social media accounts were created for informational purposes only and should not be treated as a substitute for the advice of qualified medical or mental health professionals. Always follow the advice of your designated provider.