Autistics mask to survive systemic ableism—at the cost of their self-worth
Reading time:
6
minutes
Autistic individuals learn early on that if they want to survive in a society shaped by systemic ableism, they have to mask their true autistic selves and hide many of the accompanying traits.
But over time, masking damages our self-worth. And it may also fuel internalized ableism.
So why then do we persist in doing it? Because while accommodations are sometimes made for people with disabilities, but they are by far the exception to the rule.
In the case of autism, accommodations can be even less likely, due to what clinicians call "disguised presentation". That is, their autism isn't always that obvious, or they are actively "camouflaged by the autistic.
Sure, neurotypicals (NTs) may view and treat autistics as if they are also NTs. But when they do, they set the bar for acceptance impossibly high.
When NTs expect autistic folk to think and behave as they do, the moment the autistic individual has a mask "lapse"—for example, by being overly direct, or failing to read social cues—the NT will misattribute that lapse to another cause.
Because of systemic ableism, NTs assume that the masking/non-presenting autistic is simply behaving in a certain way because they are "selfish" or "rude", and not because they are actually autistic.

They may even respond by criticizing, judging, punishing, and excluding the autistic individual.
Systemic ableism & microaggressions
The issue here is not merely that NTs are intolerant of neurodiversity and the differences it presents. It's that NTs, in general, operate from baseline ableist expectations.
Most I believe are oblivious of the extent to which this ableism informs their thinking and leads to microaggressions.
Microaggressions refer to the "commonplace daily verbal, behavioral or environmental slights, whether intentional or unintentional, that communicate hostile, derogatory, or negative attitudes toward stigmatized or culturally marginalized groups" (see Microaggressions in Everyday Life).
Microaggressions can happen within the families of autistic folk. For instance, I remember my own parents calling me "antisocial" for being a bookish introvert.
They also play out at school, with kids slapping all kinds of hurtful names upon their neurodiverse peers.
Some teachers would tell me that I lacked "common sense", and that my handwriting was "poor" and "sloppy". Turns out, all of these traits were part and parcel of my being autistic.
But even having a diagnosis doesn't necessarily guarantee understanding and compassion.
Shortly after receiving my own, I had a friend suddenly touch me from behind. When I reacted with shock and explained my reasons, this friend responded by cussing out my "Asperger syndrome".
Rather than apologizing for having startled me, this friend did what so many NTs did and called out my autism as being the problem.
Miscommunications & Theory of Mind
These misunderstandings are compounded by issues related to a skill called "Theory of Mind".
Theory of Mind (ToM) has been defined as: "the ability to recognize and understand thoughts, beliefs, desires and intentions of other people in order to make sense of their behaviour and predict what they are going to do next".
Autistic folks typically have impaired ToM. What I've noticed however is that our unusual thinking style and behavior can also general a kind of temporary ToM impairment among NTs.
That is, NTs tend to ascribe NT motives to everyone, but doing this to autistic folk can lead to confession and misunderstanding.
To give an example: when I got into trouble as a child, I would usually be upfront upon the truth, believing that my confession would be taken at face value.
But protesting my innocence or admitting to my naivety would rarely win me favors. In one case, an adult suggested I was "stupid" for expecting them to believe my story.
What happened here was that this individual couldn't fathom my intentions, and thus concluded my being honest had to be an act of deception.
Even with a diagnosis, NTs may continue to mistake an autistic's intentions.
For example, during one visit to my parents, my mother told me she was going to make some pasta sauce.
She explained that she was going to fetch a can of tomatoes, indicating what I took to be a bucket-sized can.
Knowing my mother had a tendency to bulk-buy, I thought she indeed meant to fetch a can of that size. Because of my impaired ToM, I interpreted her gesture literally.
When I expressed my confusion over why she wanted to use such a big can, it didn't occur to my parents that I was genuinely confused.
Instead, they—in their own confusion—accused me of being a smart aleck.
We mask because authenticity is risky
This quality of failing to adjust expectations when dealing with an autistic individual can sometimes be the result of the disguised presentation I mentioned earlier.
In such cases, autistics present themselves as NT, and in some cases, this is deliberate (camouflaging), with the autistic trying to mask their disability for fear of being attacked or marginalized.
Like NTs, autistics want above all to be accepted for their authentic selves. But when autistic authenticity collides with ableist expectations as in the situations I've described above, disaster can result.
Due to our impaired ToM, it can be hard to understand NTs and to anticipate how they might react to our actions. So we become master imitators and concealers.
We mask, knowing that by hiding our neurodiversity, we are shielding ourselves against a perplexing and often hostile world.
Sometimes these compensations can be positive and adaptive. Sometimes not.
A positive example is overcoming noise sensitivity by wearing headphones whenever out in public. A negative example is avoiding talking about one's interests, for fear of misreading social cues and rambling on.
But masking is self-defeating
Autistics will often tell themselves that they need to change in order to fit NT expectations. But this really is an expression of internalized ableism.
Furthermore, ignoring your needs and hiding your differences as an autistic is almost always self-defeating.
For instance, years ago I had a friend who would invite me to the movies. Personally, I find sitting in a movie theater to be sensory torture, with people constantly rustling bags and crunching on popcorn.
But rather than explaining this to my friend, I went along with her invitations, usually at great discomfort to myself.
Feeling shame over my sensory problems, I refused to tell her about the issue. Eventually, I started making excuses for not being able to join my friend, who came to believe I was intentionally avoiding her.
Difficulties with executive function are common among autistic folk. Personally, in the past, I have struggled in particular with self-organizing, managing my time, and staying on track.
In one case, a manager unloaded on me over this, accusing me of being self-absorbed and irresponsible.
Rather than reacting defensively, I admitted my mistakes and asked this manager for advice on how I could improve certain executive function skills.
She replied by telling me that my request was "beyond the scope of her role".
It was one thing to turn professional feedback into a personal attack, but to then deny me support was quite another.
This is, unfortunately, a common experience for autistics. Often we're told that we have done wrong, without being told how to course correct.
Systemic ableism creates internalized ableism
Until my diagnosis with autism, I didn't have a framework by which to defend my difference. Having long been challenged and attacked over my autistic traits, defenses have usually felt necessary.
Of course, even without having fully understood the whys and hows of my challenges, I could have still spoken up and tried to negotiate accommodations.
What stopped me, however, was the belief that I was somehow choosing to be difficult. Having internalized ableism, I had come to feel inferior and ashamed of my difference.
My self-esteem consequently became conditional upon the approval of others. This led to me adopting a workaholic lifestyle, in a bid to prove my worth to myself, and to others.
Personal boundaries blurred, to the point that I feared I was always somehow responsible when something went wrong.
Such was my shame that even after my diagnosis, I shied from the company of other autistics.
I convinced myself that the people who frequented autism-related groups weren't like me, that I was somehow more "high functioning".
What I feared—but dared not acknowledge—was that to be in their company might make me "one of them".
Ableism creates so much stigma around disability, that despite everything I knew, I still believed my autism to be a kind of flaw or personal shortcoming.
Wrap up
Systemic ableism oppresses by demanding that autistics abandon their identities and silence their needs. The presence of systemic ableism in autistic lives, however, can be countered.
We can start by leaning into authenticity, which Brené Brown defines as the "daily practice of letting go of who we think we're supposed to be and embracing who we are".
One immediate way we can embrace our authentic selves is by seeking out fellow autistics around whom masking is not necessary.
After all, the neurodiverse community exists to normalize individual experiences. It does not mandate masking, and it works to combat the stigma that can make having a disability such an isolating experience.
Autistic readers, how does ableism show up in your life? Do you recognize any of the forms of internalized ableism I've described here? Drop a comment below.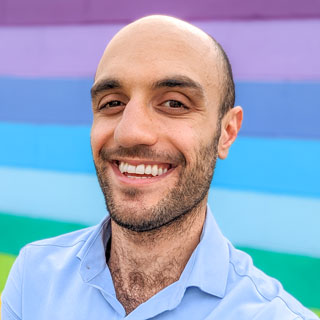 Essy Knopf is a budding social worker interested in best practices and exploring gay and autistic experiences. Subscribe to get all new posts sent directly to your inbox.
© 2022 Ehsan "Essy" Knopf. Any views or opinions represented in this blog are personal and belong solely to the blog owner and do not represent those of people, institutions or organizations that the owner may or may not be associated with in professional or personal capacity, unless explicitly stated. All content found on the EssyKnopf.com website and affiliated social media accounts were created for informational purposes only and should not be treated as a substitute for the advice of qualified medical or mental health professionals. Always follow the advice of your designated provider.