How to avoid becoming a gay dating app sociopath

Reading time:
6
minutes
Much of the small talk that happens on gay dating apps is, in my experience, a preface to a request.
"What you up to?" someone may ask, and behind this seemingly polite question, invisible gears are turning.
Maybe this stranger will hear my response and respond authentically, or maybe they will continue with the subterfuge of trying to gauge whether I'm willing and able to sustain a fantasy – or fulfill a desire.
This is very much in keeping with the commodified, gamified nature of online dating, where chat apps involve little more than a mutual cranking of slot machine handles.
For someone who is seeking to build connections, these obvious attempts at assessing sexual eligibility can quickly become soul-sapping.
So the last time someone asked "What you up to?", it was hardly any surprise that I responded with, "Getting a frontal lobotomy".
I was in my own way trying to shake my chat partner out of automaticity, but all I got in return was the acronym "lol".
Clank, went the invisible gears, and within seconds, my chat partner was proceeding with his script.
"Cool. You looking?"
Some people may describe this kind of attention as affirming. Personally? I just can't shake the feeling that I'm being treated less as a human being, than as a prospective reward.
Apps are basically Skinner boxes
Previously I compared gay dating apps to Skinner boxes. For those of you who don't know, Skinner boxes are small glass cages used by experimenters to teach animals how to perform certain actions, like hitting a lever.
These boxes reinforce desired behavior by dispensing a reward such as food, or punishment in the form of a shock from an electrified floor grid.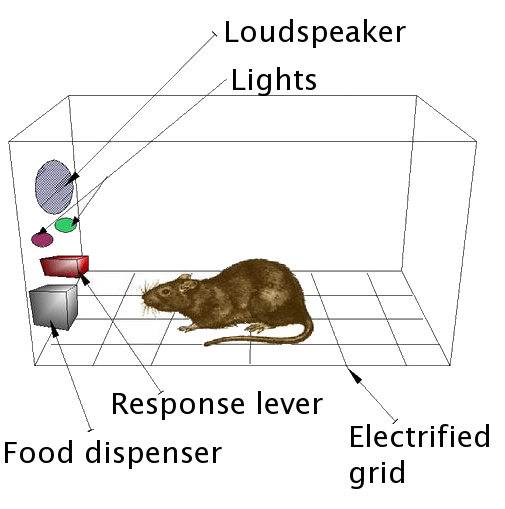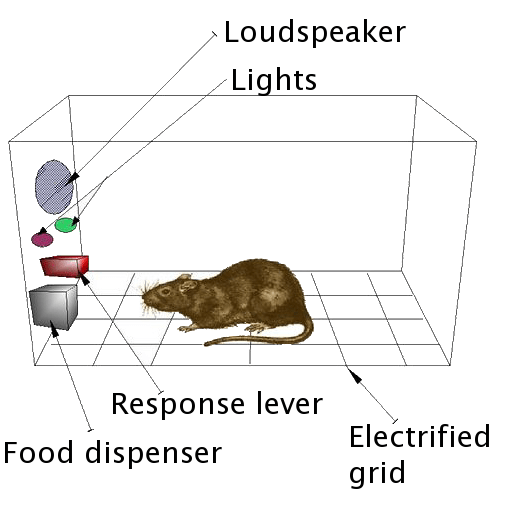 Skinner boxes are a perfect analogy for gay dating apps. The difference here is that messages, or more specifically, the attention they represent serves as the reward while being ignored is a form of punishment or negative reinforcement.
As app users, we maximize reward and minimize punishment using strategic and even deceptive self-presentation and engagement. We tailor profiles and our behavior in ways that will gain and sustain attention, even if they aren't necessarily authentic.
We may boast about our preferences or prowess while using erotic photos as bait for our chat partners.
Some of us may go so far as to create fake profiles or message someone exclusively with the aim of receiving a response. 
Messaging purely for attention, however, may be the first signs we're developing a process addiction. Here's why.
Why gay dating apps are addictive
At one point during his studies, the inventor of the Skinner box – American scientist B.F. Skinner – modified his boxes to dispense food pellets according to a random number of lever presses.
His pigeon test subjects, rather than being deterred by the unpredictability of the exercise, quickly learned to press the lever at random, even when no pellet was immediately forthcoming.
What Skinner realized was that this very same unpredictability had created a tension of expectations, which was released the moment the pigeon received their reward.
Skinner credits this tension-reward loop, also present in slot machines, as being the main driver behind addiction.
We can see that loop widely incorporated today in video games, social media, and even dating apps.
Consider the unpredictable nature of "rewards" on Grindr, Scruff, or Tinder: users log on and off at random, and the rate of replies can vary completely, sometimes even within the span of a single conversation.
Meeting someone off the app may begin as a tantalizing fantasy, but it's one that ultimately can't compete with the dopamine-seeking reward-loop offered by the back-and-forth of instant messaging.
The result is an experience that could be broadly described as ineffective, at least where it comes to generating face-to-face interactions.
Of course, if you were to canvas a group of gay men at random, I'm not sure a consensus would ever be reached on what constitutes an "effective" dating app chat session.
After all, everyone's definition of a reward will vary from interaction to interaction, day to day, sometimes minute to minute. Yes, humans are a fickle bunch.
How addiction creates dating app sociopaths
Dating apps don't help, in that, they all seem designed to facilitate any variety of interactions. Some may use the app with the intent to meet, while others are simply looking for a distraction or the thrill of erotic chat or photo exchanges. 
Suppose we come to the apps with a specific goal in mind. Gamification in many cases will nudge us towards abandoning specificity, towards being open to any and all interactions, if only for the momentary gratification they promise.
Our sole purpose thus becomes the maintenance of the tension-reward loop.
Sustained use will lead many users towards a nebulous middle ground, simultaneously craving all of the above, yet never finding true satisfaction. And yet we keep coming back. Why?
Notably, Skinner found that pigeons in his experiments continued to peck a lever even once their appetite had been sated. His conclusion: the action of cranking a lever had in and of itself become "fun".
You can see the same behavior among users. Like edgy, risk-averse stockbrokers bidding in an incredibly volatile market, we hedge our bets, messaging indiscriminately just to see who will bite.
After firing off scores of messages to multiple chat partners, we wait for the replies to trickle in.
Too much tension and frustration – not enough replies, significant delays, or "inferior" rewards – and our sense of enjoyment will diminish.
Our only recourse then is to either adjust our expectations or spread our net more widely in order to maintain the loop.
Profile grids and swipe stacks will come to resemble an ever-shifting buffet in what feels like a perpetual famine.
Prolonged use of gay dating apps thus sees other users reduced to mere units in a digital meat market characterized by extreme scarcity. An environment in which the dating app sociopath flourishes.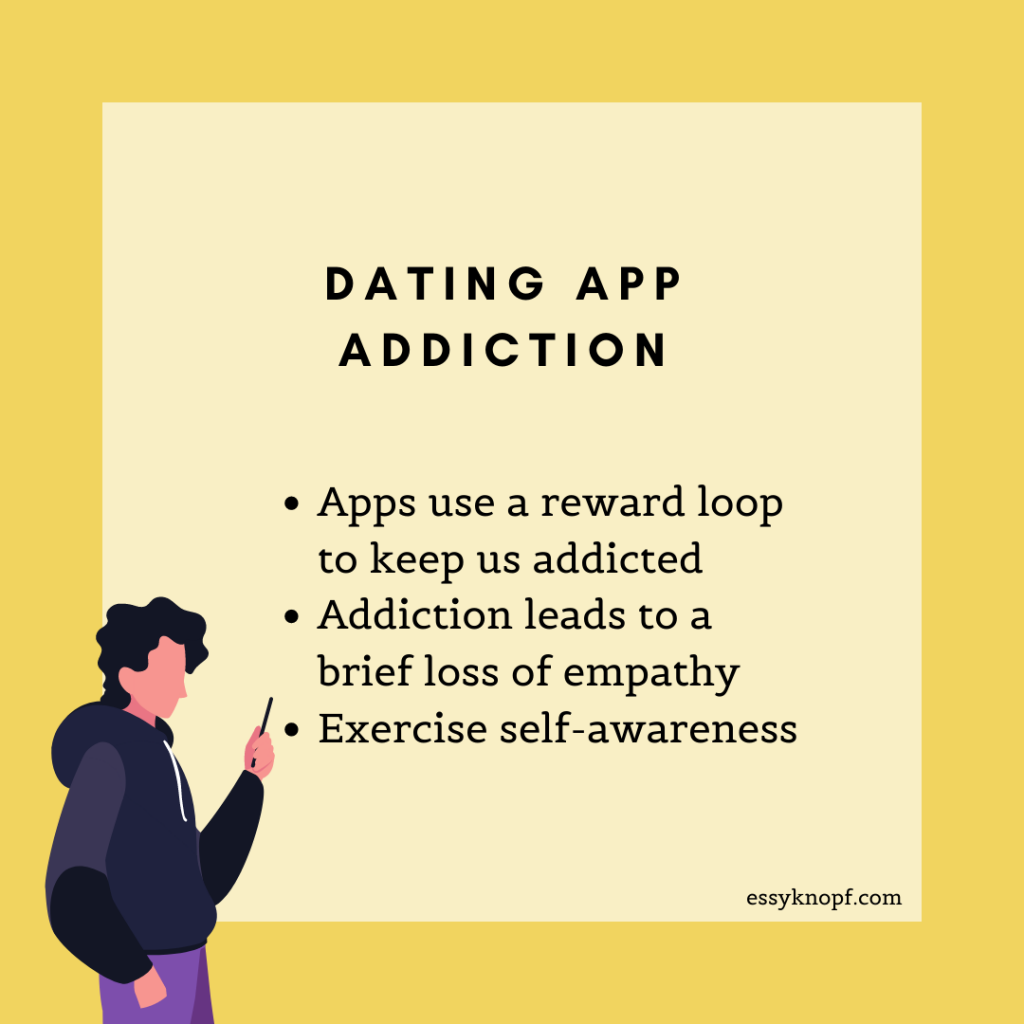 What is a dating app sociopath?
In the 10+ years in which I've used gay dating sites and apps, I've often caught myself logging in just to see who had messaged, less interested in the content of the communication than the sheer fact of its existence.
It became clear to me that so long as I was caught up in tension-reward loop – in the split-second objectification, relational multitasking, devaluation, and dismissal that seems baked into digital modes of interaction – I could hardly expect to form healthy relationships with other gay men.
How, when I was treating chat partners as mere levers to be pulled for personal gratification?
The single-mindedness with which we perform this action, according to researcher Simon Baron-Cohen, is the antithesis of empathy:
"Single-minded" attention means we are thinking only about our own mind, our current thoughts or perceptions. "Double-minded" attention means we are keeping in mind someone else's mind at the very same time… When empathy is switched off, we think only about our own interests. When empathy is switched on, we focus on other people's interests too.
It is in the absence of such empathy that we adopt sociopathic behavior. And just like the sociopath, many of us – consumed by our process addiction – will go to extreme lengths in the pursuit of satisfaction.
Consider these traits, as laid out in the seminal work on sociopathy, The Mask of Sanity:
superficial charm
absence of anxiety or guilt
undependability, dishonesty, egocentricity
complete inability to form lasting intimate relationships
failure to learn from punishment
absence of emotion
lack of insight into the impact of our behavior
failure to plan ahead
For those of you who have or continue to use gay dating apps, I ask you this: have you not experienced or dabbled yourself in superficial charm and unpredictability?
Or worse still: deceit, manipulation, and outright nastiness?
The system is hopelessly broken
Chances are you're alone. Tragically, the addictive qualities of gay dating apps have created an environment where sociopathic behavior is now the status quo.
Strangers will issue demands and unsolicited erotic photos, interrogating our sexual preferences before blocking us at random.
While these tendencies are not specific to gay men, app-based reward loops positively reinforce these behaviors while failing to offer real accountability.
The result is an endless chain of victimization in which bad behavior is normalized and internalized and we all unwittingly find ourselves either in the company of or becoming, gay dating app sociopaths.
It's no secret that gay dating apps aren't designed to foster genuine, heartfelt connection, or for that matter to enforce personal accountability.
Their goal, rather, is to gamify interactions with the goal of sustaining use, indefinitely. But in so doing, they train us to associate self-worth with constant affirmation.
In our pursuit of that affirmation, we will find ourselves pulling out all stops to feed it, even if it means completely disregarding and discarding others along the way.
The system may be broken, but it remains profitable for app makers, so there is little motivation for change. But as individual users, we can and must hold ourselves to a higher standard of personal conduct.
We can do this by:
Exercising self-awareness: curbing usage motivated only by the desire to get a "fix".
Empathizing, rather than objectifying: treating people with kindness, consideration and courtesy. Being honest and upfront with our intentions and not stringing people along when we aren't interested in them.
Voting with our feet: registering our protest by quitting and pursuing more wholesome forms of interaction, offline.
Takeaways
Gay dating apps employ a reward loop to keep us addicted.
Addiction leads to single-mindedness and a temporary loss of empathy.
In its absence, we may behave in antisocial ways.
Be self-aware and empathic. Be accountable for your own behavior.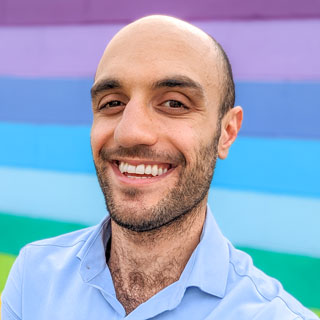 Essy Knopf is a budding social worker interested in best practices and exploring gay and autistic experiences. Subscribe to get all new posts sent directly to your inbox.
© 2023 Ehsan "Essy" Knopf. Any views or opinions represented in this blog are personal and belong solely to the blog owner and do not represent those of people, institutions or organizations that the owner may or may not be associated with in professional or personal capacity, unless explicitly stated. All content found on the EssyKnopf.com website and affiliated social media accounts were created for informational purposes only and should not be treated as a substitute for the advice of qualified medical or mental health professionals. Always follow the advice of your designated provider.