Reading time:
5
minutes
Many of the messages we get as autistics living in an ableist society remind us that we're different. And this difference, more often than not, is treated as a negative—at the cost of our self-esteem.
When confronted with the unique traits and behavior of autistic folk, many neurotypicals (NTs) typically respond with discomfort, annoyance, hostility, and even vilification.
Sometimes they do it out of ignorance—a kneejerk reaction to something they don't understand. They may also simply view autism as a "deficit" or "fault" that needs to be corrected.
Acknowledging areas for growth
There is a tendency within the autism community to react defensively to the "autism-as-deficit" paradigm by casting autism exclusively as a strength.
Given many of us feel that our autism is an intrinsic part of our identity, it makes sense that we should feel compelled to defend it.
Personally speaking, I would much sooner rather celebrate my strengths than look at myself through the lens of inferiority.
At the same time, I recognize that being autistic can come with some downsides. For example, I find my various sensory sensitivities to be a nuisance. And I wish I could form and sustain relationships with the ease enjoyed by many NTs.
Should I treat these downsides as a reflection of my worth? Definitely not.
That said, I do think there is value in recognizing our personal areas for growth. For me, this is developing stronger social skills.
Self-esteem starts with acknowledging strengths
Areas of growth aside, I think there is merit in focusing on strengths. Being autistic is can convey quite a few. For example:
We enjoy peer relationships characterized by absolute loyalty and impeccable dependability
We are free of sexist, "age-ist", or culturalist biases; able to regard others at "face value"
We are willing to share our mind, irrespective of social context or adherence to personal beliefs
We have an ability to pursue personal theory or perspective despite conflicting evidence
We seek an audience or friends capable of enthusiasm for unique interests and topics
We take consideration of details and spend time discussing a topic that may not be of primary interest
We listen without continual judgment or assumption
We are interested primarily in significant contributions to conversation, preferring to avoid "ritualistic small talk", or socially trivial statements and superficial conversation.
We seek sincere, positive, genuine friends with an unassuming sense of humor
And as employees, we are also known to be: reliable, persistent, perfectionists, easily able to identify errors, technically able, and to have a sense of social justice and integrity.1
We are also willing to question protocols, can be highly accurate, attentive to detail, logical, conscientious, knowledgeable, original in problem-solving, honest, and likely to thrive on routine and clear expectations.
In a majority of situations, these qualities are quite beneficial. They also contradict the autism-as-deficit paradigm.
Are you 'strengths blind'?
Strengths vary from individual to individual, and may manifest physically, mentally, emotionally, socially, or spiritually.2
We may not be aware of those strengths and how they may have helped us to cope with the challenges of day-to-day life. But they're still there, regardless.
Failing to recognize our strengths is called being "strengths blind". Four factors can prevent us from seeing them.
Firstly, a lack of awareness of said strengths, resulting from not practicing self-awareness or feeling disconnection from our identity.
Secondly, we may not see our strengths as meaningful. Thirdly, we may downplay them as ordinary, rather than extraordinary.
And fourthly, we may overuse our strengths to the point that they create problems.
One commonly overused autistic strength is passion.
To elaborate: autistics can have something of a reputation for wanting to share knowledge about their areas of interest, even with the most casual of acquaintances.
If we're not careful, we may end up talking at length and scarcely allowing the other person to get a word in edgewise.
In fact, we can become so caught up in the act of sharing that we fail to take notice of the subtle—and not-so-subtle clues—that the other person is getting annoyed, or feeling frustrated and overwhelmed.
Yet in moderation, this character strength can be hugely advantageous. Passion for instance can enable us to become leading specialists in our chosen fields.
Putting our strengths into practice
So, how do we overcome strength blindness? By growing our strengths awareness.
You can begin in your own life by reaching out to your closest friends and family members and asking them, "What do you think my strengths are?"
Their responses should give you a clear idea of what you excel most at. Alternatively, you can take this character strengths and virtues questionnaire.
Some common strengths or qualities are creativity, curiosity, judgment, love of learning, perspective, bravery, perseverance, honesty, zeal, love, kindness, social intelligence, teamwork, and fairness.

Other qualities are leadership, forgiveness, humility, prudence, self-regulation, appreciation of beauty, and excellence, gratitude, hope, humor, and spirituality.
The great thing about character strengths is that most are not in any way shaped by our being autistic.3 (Small caveat: many autistics may struggle with social intelligence and teamwork, and yet we also love to learn and are very curious.)
Once you've identified our strengths, select your topmost three. Now ask yourself, what activities do you do in service of those strengths?
Chances are when you do those activities, you'll feel great about yourself. Why? Because they are impactful, and because they provide satisfaction.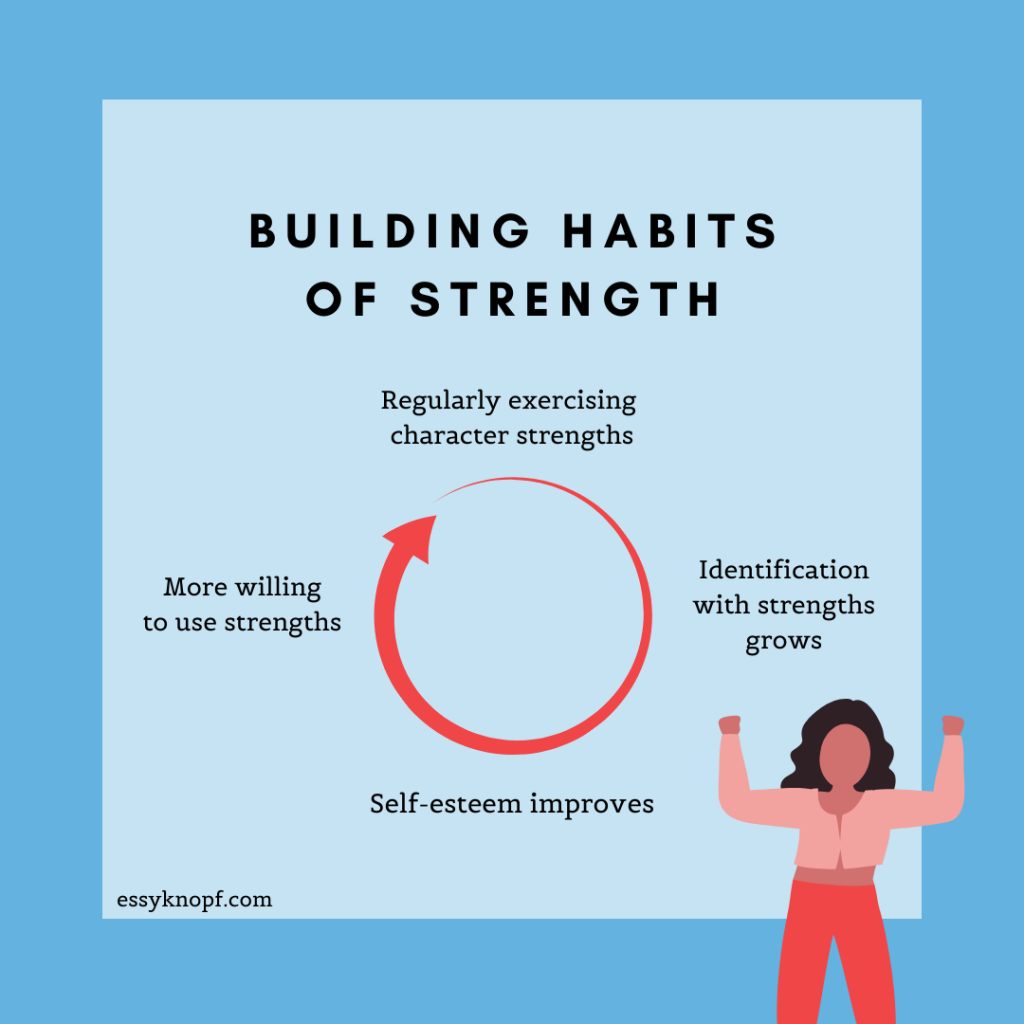 Strengths-based habits improve self-esteem
When we do these activities and receive a positive result, it affirms our strengths and builds self-esteem.
If you're struggling with self-esteem issues, make a conscious plan to do at least one of the three activities when you feel down or like you're struggling.
If love is one of your strengths, perform a kind act for someone, such as buying a friend a gift. If appreciation of beauty is a strength, visit an art gallery or public garden.
If creativity is a strength, pick up a pen or paintbrush and start creating.
Of course, doing the occasional activity can only take you so far. If we really want to grow our self-esteem, we should make these activities into habits.
Set aside a regular time in which to do each of the activities you identified. Incorporate them into your daily or weekly schedule, until they become habitual.
Wrap up
Why is making activities into habits important? Because habits create a powerful snowball effect.
The more we exercise our strengths, the more they feel like a part of our character. The more we orient our character around our strengths, the more capable we feel.
The more capable we feel, the greater our sense of self-worth. The greater our sense of self-worth, the more likely we are to embrace our strengths. And so the cycle goes.
What are some of your strengths, and how do you express them?
And what's one new habit you could commit to over the coming week? Share your responses in the comments.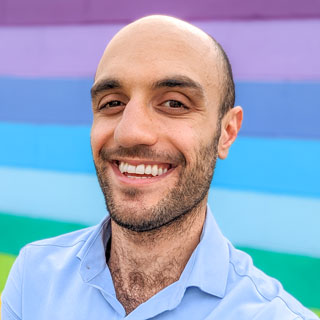 Essy Knopf is a budding social worker interested in best practices and exploring gay and autistic experiences. Subscribe to get all new posts sent directly to your inbox.