Reading time:
6
minutes
Disrespectful people, pushy people, abusive people—chances are all of us have at one point in our lives encountered such individuals.
Sometimes we skate by, unharmed. Other times, the encounter is unpleasant enough to leave us with a sour taste in our mouth, bruised feelings, and an acute sense of injustice.
Autistic individuals I believe are especially vulnerable when it comes to being bullied and manipulated.
It begins with the fact that many of us have low self-esteem, resulting from living in ableist societies in which neurodiverse folks are treated as inferior.
Autistics additionally have been found to have a more deliberative (and effortful) thinking style. This can impair our ability to rapidly and automatically intuit others' intentions.1
Our willingness to trust others and give them the benefit of the doubt—to do unto others as we would like them to do unto us—puts us at even further risk.
Turns out it's no accident that toxic individuals are drawn to us like metal filings to a magnet. Rather, it's the result of our fundamental struggles with knowing when and how to say "no".
Low self-esteem: a recipe for exploitation
Low self-esteem can render many autistic individuals unwilling—or unable—to set boundaries and to push back when the situation calls for it.
This largely has to do with the kinds of negative reactions we might expect, reactions we have often endured due to our "weird" autistic traits and behaviors.
Others' reactions in turn lead us to adopt negative narratives about our own supposed unworthiness and unloveable nature as autistics.
This erodes our self-confidence and undercuts our ability to be self-reliant, while also signaling our vulnerability to potential bullies and manipulators.
Another component of this is our tendency to second guess our own feelings and thoughts when confronted with difficult situations.

Many of us are often told that we're in the wrong. We act with good intentions, only for neurotypicals to tell us that our intentions don't matter.
All of us have at one point either been told we are too honest, too blunt, too insensitive, too difficult to follow, or too weird. It's dismissals and criticisms like this that leave us prone to self-doubt.
Thus when challenged, many of us may spiral into helplessness and fail to stand up for ourselves.
Why confronting difficult and toxic people is so hard
It takes courage to speak our feelings of pain, helplessness, and anger. Having low self-esteem, therefore, means we are forced to fight battles on not just one but two fronts.
Firstly, we must validate our perceptions of a situation. This requires an acknowledgment of our worthiness, which can conjure guilt, shame, discomfort, and anxiety.
Secondly, we are standing up and demanding respect. There is always a fear that we might not be heard—a fear that is often borne out in day-to-day life as a marginalized minority—thus reinforcing our negative core belief of unworthiness.
Then there is the concern that the person we are confronting may retaliate—a concern, however wellfounded, that enables abusive people to remain in positions of power.
Low self-esteem can make us a target
When we speak out, the person aggressing may listen and adjust their behavior.
Those who harbor ill intentions alternatively may also decide that we aren't worth the effort after all, and move on.
But should we fail to speak out—or if our "no" is not forceful enough to effect a change—toxic individuals can linger on.
If you're dealing with someone with a taste for manipulation, they won't surrender control so easily.
There's always the possibility they may redouble their efforts, draining your emotional well and tainting the waters with negativity.
The seven 'buttons' used by manipulators
So, why you? What is it about your person that clues these people into your weaknesses?
In Who's Pulling Your Strings?, Harriet B. Braiker describes seven behavioral "buttons" that manipulators routinely use to pressure and coerce their victims.
It is only by becoming aware of those buttons, Braiker argues, that we stand a chance of resisting manipulators' control tactics.
1. The disease-to-please: People with this challenge have made their self-worth conditional upon their willingness to do what others want or expect of them.
Resisting the disease-to-please is likely to trigger guilt, a fact manipulative folk use to their advantage.
2. Approval and acceptance addiction: Are you overly nice? Chances are your efforts are motivated by a fear of rejection and abandonment.
Manipulators leverage this fear, withdrawing approval and acceptance to force you into complying with their demands.
3. Fear of negative emotions: Experiencing anger and sadness is fundamental to the human condition.
Trying to avoid negative emotions is next to impossible. Moreover, expressing them can be key to maintaining healthy boundaries.
Those with this button try to bury and avoid negative emotions thus leaving them wide open to attack by manipulators.
4. Lack of assertiveness: People-pleasers struggle to say "no". As such, they may struggle to stand up for themselves when the situation calls for it.
5. The vanishing self: Manipulators have no qualms about twisting those with an unclear sense of identity and core values into fulfilling their own needs and desires.
6. Low self-reliance: Distrusting one's perceptions drives us to seek the input and advice of others, leaving us vulnerable to external influence.
7. External locus of control: Those with an external locus of control believe that forces outside of themselves are ultimately responsible for shaping their lives.
This ultimately results in learned helplessness and an inability to assert one's self in the face of manipulation.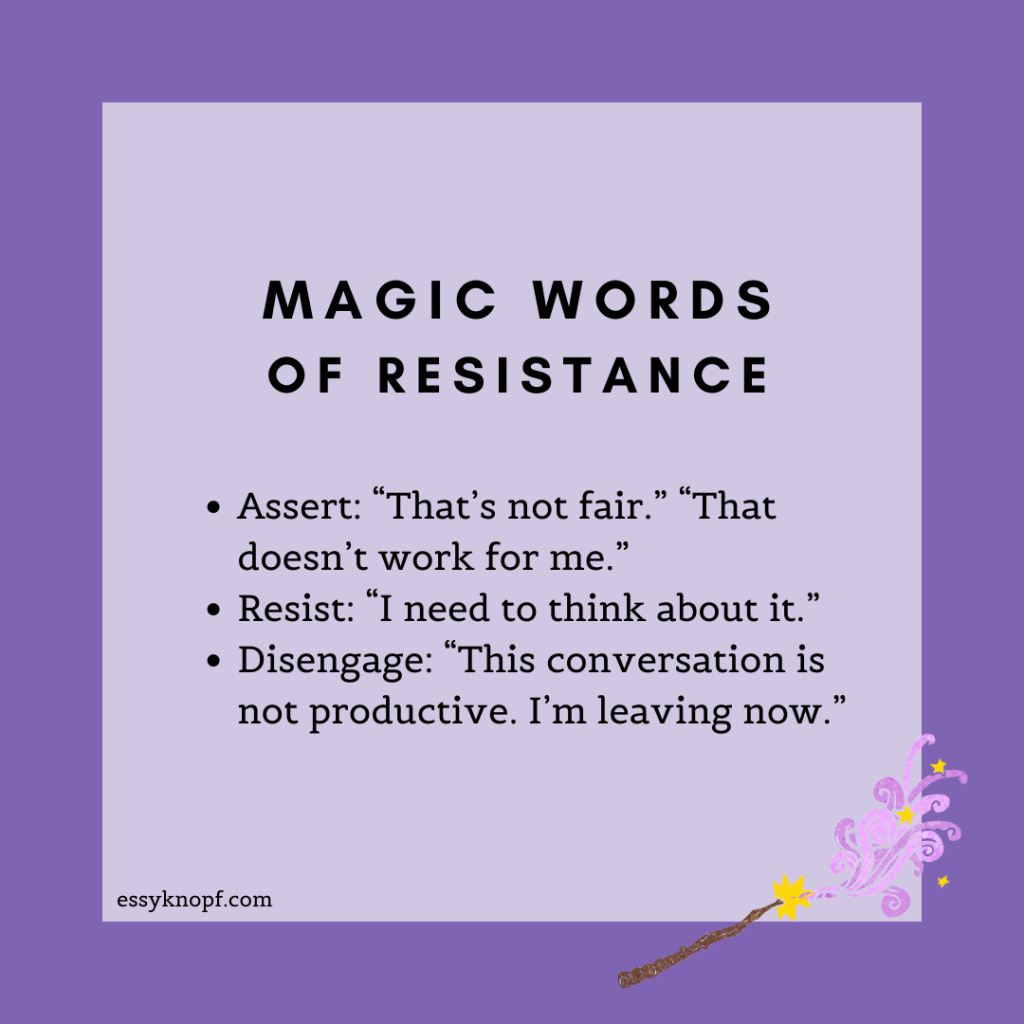 From low self-esteem to high self-esteem
Manipulators as indicated capitalize on low self-esteem, which has the effect of only reinforcing their victims' negative self-perceptions.
One could observe that the degree to which we can suffer low self-esteem is relational. Others can damage, but also repair it.
While a trusting, supportive relationship with a therapist or loved one is one way we can heal our sense of self-worth, the task of pushing back against manipulators ultimately falls to us.
Confrontation, however frightening, is sometimes necessary. This may be as simple as making explicit requests and seeking commitment.
"I" statements are helpful here. For example, "I feel disrespected when you name-call. I'm asking that this behavior stop."
Remember, you have a right to make reasonable requests and for them to be acknowledged. You are under no terms required to explain or defend yourself.
What you want in confronting a manipulator is some sort of change. That said, your demand needs to be framed as a win-win proposition.
If, however, the other person won't refuse to accept anything short of win-lose, lose-win, or lose-lose, be prepared to pivot.
Try these magic phrases
Some aggressors respond to feeling threatened by double-downing or escalating. This may take the form of deflecting, projecting, shaming, verbal abuse, and overly dramatic reactions.
Know these individuals may try to confuse the issue, gaslight you by playing the victim, and/or evading any responsibility.
Many individuals feed off conflict, and anything you say or do that plays into this will count as a win in their books.
Be sure to name any attacks on your person the instant they happen. Send a clear message to the aggressor that you won't stand for poor treatment.
Hold fast to your conviction that no harm has been done by your speaking up. Your goal here is to protect yourself, not the manipulator's feelings—which probably weren't in jeopardy to begin with.
Do not be drawn into a point-for-point debate. Instead, assert yourself by saying: "That doesn't work for me." "That's not fair."
Resist any attempts by the manipulator to wrangle for control by delaying your response: "I need to think about it."
If they try to force an argument, disengage: "This conversation is not productive. I'm leaving now."
If you're feeling thrown off balance by the manipulators' tactics, it's okay to break off the exchange by telling them: "Actually now is not a good time."
A straight "no" will even suffice, followed by your departure.
And it's perfectly acceptable to shut down the lines of communication until the other person agrees to follow rules of common courtesy.
If you'd like to try out some of these lines but are worried you might fumble the delivery, practice them in advance until you feel 100% comfortable saying them on cue.
Reappraising low self-esteem
These kinds of situations and encounters can inflame existing feelings of low self-worth among autistic folk, especially when bullies respond with escalation and accusation. You can address this head-on by taking stock of your actions immediately afterward.
Check in with yourself. How are you feeling about what just went down?
Were you fair in your conduct? Did you really behave unjustly, as the manipulator would have you believe?
Imagine for a moment it was your friend making the same request of you. Imagine they told you that your behavior had hurt them.
Would you have listened to them? Would you have been open to change?
If your answer is "yes", then it's reasonable to assume that it was a fair request.
The bully may accuse you of being equally at fault, but what they probably are trying to do is avoid culpability by muddying the water.
Refuse to take on any of their accusations and combat self-doubt. Conduct an inventory of your alleged character flaws and use humor to inflate them.
Have you, for example, failed to be perfect enough? Are you insufficiently conscientious? Are you an extremely poor people-pleaser?
Now try to name some appropriate punishments for these crimes. If the ridiculousness of it all doesn't stop you in your tracks, then take it as proof that it is you—above all—who deserves the break.
If these encounters leave you feeling stressed, consider practicing some of these self-care techniques, specifically devised for autistic folks.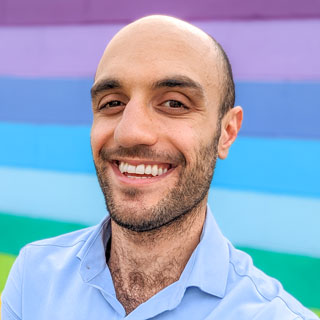 Essy Knopf is a budding social worker interested in best practices and exploring gay and autistic experiences. Subscribe to get all new posts sent directly to your inbox.