Reading time:
8
minutes
To what does the gay geosocial app Grindr owe its success? Is it the fact that it was one of the first, or that its design employs highly manipulative "dark patterns"?
To understand Grindr's extraordinary success—one that allowed it to achieve ubiquity in the gay community, and to become a fixture of popular culture—we have to go back to its launch.
On March 25, 2009, Grindr was officially founded by San Vicente Acquisition LLC. The app's arrival came less than a year after Apple launched its App Store.
Certainly, the absence of direct competition boosted Grindr's popularity. That said, the app didn't represent a reinvention of the online dating wheel, so much as a refinement.
The app's designers implemented existing features already present in existing web-based services, such as Gaydar and Manhunt, combining these with the ability to see other users based on proximity.
The geosocial aspect didn't just endow all interactions with an exciting sense of immediacy—it accelerated them.
No longer tethered to web-based services only accessible via computer, gay men were suddenly able to respond and arrange meetups on the go.
The excitement, speed, and convenience enabled by Grindr were so attractive that a raft of other dating apps soon emerged to challenge its dominance.
The enduring popularity of dark patterns
Tinder, OkCupid, Scruff, Hornet, Hinge, Bumble—all of these apps represent iterations of a winning formula. New look, same great taste.
The more successful apps such as Scruff simply lifted features wholesale from Grindr, while others like Tinder introduced new mechanics, such as the ability to swipe to like or decline users' profiles.
Not all geosocial dating apps flourished or even survived the mobile app development boom, one which, of course, was closely tied to the rise of smartphones.
Those that did however hadn't so much caught the wave of a trend or were simply meeting an unmet need. They endured because they used manipulative tactics user experience specialist Harry Brignull calls "dark patterns".
Dark patterns in action in gay geosocial apps
On Brignull's "Dark Patterns" website (now referred to as "Deceptive Design", he lists a number of strategies typically used by websites to control user behaviors.
Brignull offers creative analogies (e.g. "roach motel") and compound words of his own invention ("confirmshaming"), detailing the extent to which website designers are willing to go in the name of profit.
In a 2020 interview with Wired, he summarized one of the major outcomes of dark pattern strategies: maximized retention of the user base.
"Lots of companies will make it hard for people to leave," Brignull noted. "They are going to get around to it eventually, but if they might stay for an extra 10 percent of the time, or 20 percent, the accounts might live just a little bit longer."
"And if you're doing that en masse for hundreds of thousands of people, that translates to enormous amounts of money."
Many of these dark patterns Brignull describes don't pertain to geosocial dating apps, but those outlined on a sister website do.
Dark Pattern Games runs a registry that names and shames video games it says use dark pattern strategies. (Note: The site does not appear to be directly associated with Brignull, and its provenance is unclear.)
These strategies I would argue are present in many gay dating and hookup apps, given most of them incorporate gamification in their designs. 
While Grindr is hardly an exception to the norm, it receives credit for being the first gay geosocial app to succeed in mainstreaming dark patterns.
For this reason, I will use this particular app as a case study, exploring the presence of temporal and psychological dark patterns and their impact on the user experience.
Temporal dark patterns in gay geosocial apps
Daily rewards: Logging into Grindr usually provides users an opportunity to collect messages sent from chat partners following their previous login.
User profiles appear in Grindr's grid-based layout based on both proximity and how recently they have logged into the app.
Logging in therefore increases the chances of one's profile being seen by those currently browsing the app.
This may thus trigger an influx of fresh messages, increasing the daily reward output and thus incentivizing users to return.
Grinding: Not to be confused with the popular verb for using Grindr, "grindring" (though the similarity here is ironic), this term refers to when apps force users to perform repetitive busywork to achieve a sense of advancement.
In the case of Grindr, this involves screening countless profiles to see if they meet certain attractiveness and compatibility criteria.
This involves fielding cascades of unsolicited messages and photos, as well as chatting with an endless procession of old and new users.
Advertisements: Grindr forces users to watch ads before they can read or respond to messages from other users.
Besides buying a subscription membership, there is no way to bypass these ads.
Infinite Treadmill: This term refers to when an app renders success or completion of a task impossible.
Grindr's old motto was "get on to get off", with the app presenting itself as a kind of matchmaker between two people (or more) who were presumably seeking an in-person interaction.
But meeting someone, whether it be for friendship or a sexual and/or romantic liaison, Grindr renders this almost impossible due to its gamified design.
To explain: in order to secure maximum responses, users have to continually engage with the app. For example, by logging in frequently, and tailoring profiles, messages, and photos to solicit responses from as many other users as possible.
When one receives such responses, which represent attention and validation, they positively reinforce our continued use.
These responses also motivate us to continue tailoring our profiles, messages, and photos to maintain or increase these responses, rather than in service of a physical goal, like meeting another user.
The effect is an experience that can be likened to an endless cycle…or an Infinite Treadmill.
Can't Pause or Save: Exchanging messages on Grindr is inherently fun and rewarding, and so we may find ourselves keeping at it well beyond what we might have initially planned.
Even after we close the app, we continue to receive push notifications from other users when they message us. These notifications serve to summon us back to the app to continue our conversations.
But given other users also don't linger on the app indefinitely, with many logging off—often without notice—this creates an impression that all exchanges are fleeting.
The possibility of missing out on said exchanges (and the possibility of a friendship, sexual, or romantic encounter) creates tension within the user.
Fear of missing out ("FOMO") thus drives many to routinely log back into the app and respond to any outstanding messages.
Due to the proximity/recency factor I mentioned above, logging back in pushes our profile back into prominence, drawing attention from still more users.
This inability to "pause" means our Grindr interactions continue indefinitely, intruding into our daily life.
Psychological dark patterns in gay geosocial apps
Illusion of Control: When scanning the Grindr user profile grid, new or unfamiliar profiles are more likely to stick out and inspire curiosity.
Human beings are inherent novelty-seekers, a fact Grindr's creators capitalize upon by spotlighting new profiles/profile photos. 
The app does this by refreshing display grids periodically, revealing users who have recently arrived in one's area, or who have updated their profile.
By doing so, the app directs the flow of attentional traffic towards these individuals, which can trigger a virtual "love bombing" by multiple users.
To the recipient, being love-bombed may lead them to believe they are a highly desirable commodity.
To the sender, being able to love bomb comes with the expectation that one will receive a response. Both recipient and sender are led to entertain an illusion of control.
Variable Rewards: Messages (read: rewards) are received entirely at random on Grindr, and even when one is not on the platform through push notifications.
The lack of a predictable schedule by which rewards arrive is a form of intermittent reinforcement.
Intermittent reinforcement is commonly used by the gambling industry to manipulate clients into continually "playing the game", even when doing so might spell financial ruin.
This has been demonstrated using Skinner boxes, an experimental device that uses intermittent reinforcement to create addiction even among pigeons and rats.
Intermittent reinforcement is successful because it does not encourage scrutiny or self-reflection. In the case of Grindr, it promotes a kind of minimalist, reflexive communication style that characterizes social media: swiping, liking, and commenting.
Grindr users thus respond to the existence of others in the same casual, noncommittal fashion they would a social media post, knowing this is all that is required to obtain a response and therefore validation.
Aesthetic Manipulations: Grindr's gamified design promotes interaction as a free-for-all, rather than a deliberate and purposeful pursuit of individuals for a concrete, in-person outcome.
The design doesn't nudge users towards meeting in person, something that could easily be achieved by imposing limitations such as capping the total number of messages exchanged between two users.
To do so, of course, would result in a drop in the user base, and total time spent on the app, thereby reducing opportunities to monetize users' continued use.
App makers, as discussed in a previous blog post, do this not only through advertisements and subscription services but the sale of user behavioral data.
One way in which Grindr is able to keep people on the platform is the spotlight effect that funnels collective attention towards specific users based on their salience and novelty.
Being spotlit can leave one with a conviction in one's own appeal, even if this effect ultimately is temporary and likely to be withdrawn after the app ceases to spotlight one's profile.
The one-way flow of messages may be replaced by complete silence—often within hours of an initial login or photo update. The validation feast offered by Grindr thus leads to virtual famine.
The app promises the fulfillment of our subconscious desire to be seen as attractive, desirable, and worthy, before withdrawing it rather suddenly, and dangling it again when one receives attention again subsequently.
You see, famine on Grindr is rarely total. Because the app has a large user base, and because users frequently change their locations, one's profile is routinely discovered by a new batch of users.
This intermittent reinforcement leads us to interpret these crumbs as evidence of a forthcoming meal. So we optimistically make do with what we can get, holding out for the possibility of future successes.
We tell ourselves that just over the horizon, our next lover or partner is waiting and that the only way to secure their affection is by continuing to login into the app and play the "game".
Optimism and Frequency Biases: Being love-bombed on Grindr is inherently memorable, given there are few instances outside of using the app where this will happen.
The experience may cause us to lean into blind optimism. After all, if one enjoys such success at first blush, surely one will never struggle to garner interest from others?
And so we come to believe that our prospects on the app are not a product of its design, but rather us having a fixed amount of desirability.
Yet when one considers the hundreds of conversations they have had with other users, one realizes that only a tiny fraction of those conversations lead to in-person meetings. 
Such meetings are, at least in my estimation, a far more concrete reflection of one's prospects.
The app however coaches us to focus instead on what is referred to in social media as "vanity metrics".
This jargon refers to metrics that make us feel good but don't translate to any meaningful results, such as the total amount of messages received, especially during the love-bombing phase.
Wrap up
Gay geosocial app makers have the advantage: they know our weaknesses and are willing to exploit them using all manner of clandestine dark patterns.
These apps may provide what we consider to be an essential service often for free, but they come with a hidden price tag.

Monitoring our behavior on their platforms from behind a one-way mirror, app makers continually tweak and finetune these patterns so as to further entrap us.
All of this is done in service of profit, per a widespread form of profiteering I have referred to as "distraction capitalism".
We users accept these manipulations because they wear the fun guise of gamification, and cultivate satisfaction through intermittent reinforcement.
But constant exposure to this kind of reinforcement can lead many of us to develop process addictions. 
Much in the same way we log in to social media to check for "likes", we may find ourselves compulsively logging into gay geosocial apps like Grindr to collect messages and a quick hit of dopamine.
If you happen to recognize the role dark patterns take in your regular app interactions and are alarmed, know that there are far healthier alternative methods available for meeting other gay men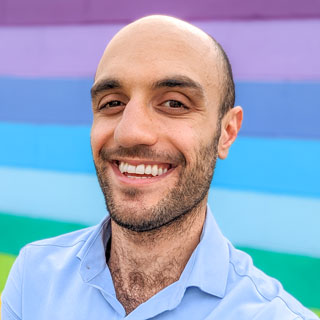 Essy Knopf is a budding social worker interested in best practices and exploring gay and autistic experiences. Subscribe to get all new posts sent directly to your inbox.