Five steps to a fantastic gay relationship
Reading time:
6
minutes
Throughout my twenties, I stumbled from one unsuccessful gay relationship to another, thwarted by the fact my partners and I were often operating at cross-purposes.
The first time this happened, I had just confessed to my then-boyfriend Kohei* that I didn't anticipate ever wanting to have kids of my own.
Having a vague awareness of my own dysfunction, and fearing I might unintentionally inflict it upon my children, it seemed the sensible thing to say.
I was also barely out of my teens, and in no way ready to even contemplate the possibility of parenthood.
"Gonna be honest, that really has me worried," Kohei replied. I shook my head.
"It's just not my thing."
"… So you're not even going to consider it?" Kohei said.
"Sorry," I said. Kohei's gaze fell to the floor.
"Well, I can't see myself dating someone who doesn't share my long-term goals."
Feeling cornered, I grabbed my backpack from his couch and stood up.
"Fine," I said. "Don't date me."
Stepping out onto Kohei's front porch, I called out a polite farewell, hopped on my bike, and pedaled home.
When a gay relationship just doesn't "work"
My reaction was, in hindsight, unfair. But truth be told, Kohei's ultimatum had given me the escape hatch I had long been looking for.
My boyfriend's puppy-like devotion had arrived at my door, premature and unqualified – like a Christmas gift in July. It had left me with deep-seated suspicion.
Was Kohei really interested in me, or was he just afraid – as we all are, on some fundamental level – of being alone?
Up until this point, I had been seeding our conversations with prickly challenges, less out of a desire to antagonize Kohei than a wish to test whether he would stand his ground, or rollover. And time and time again, Kohei had done the latter.
When the morning after our confrontation, Kohei attempted to patch things up with me, I insisted that he was in fact right: we were not compatible.
The "don't date me" comment was, I knew, the culmination of many attempts to test him. Kohei's willingness to overlook my take-it-or-leave-it attitude seemed to me proof enough that the two of us were, in some inexplicable way, out of alignment.
Too needy, or too neglected?
Where I had kept Kohei at arm's length, come the next relationship, I found myself cast in the opposite role.
Remo* was accommodating, but not in the way Kohei had been. Unlike Kohei, asserted himself where he needed to, and I respected him all the more for it.
Here was a person capable of withstanding me at my bossiest and gently putting me on notice. We were, I wanted to believe, a good match.
The day I called to reveal I had just been made redundant, I got my first hint of the growing distance between us.
"So…I'm out of a job," I said, my voice breaking with emotion.
"Well, you know what you have to do," Remo replied.
"What do you mean?" I replied, stung by his lack of sympathy.
"Look," Remo said. "I've got to get back to work. I'll text you later."
Feeling kind of put out, I grew first apprehensive, then adversarial.
"You know, you could be a little more empathetic," I said during a later conversation.
"I think you mean empathic," Remo sniped back.
Sensing his withdrawal, I pressed him for emotional support. But the bullishness Remo had once excused had suddenly become a problem. He ended it not long later, claiming he no longer "had the time" to hang out.
In fighting for my boyfriend's validation, it seemed I had unwittingly driven him away. Heartbreak and an unexplained sense of shame followed.
What is attachment?
When gauging a gay relationship for compatibility, there is perhaps one factor that trumps all, and yet is often overlooked: attachment style.
Attachment styles in short are about how we form attachments to other people. Our styles are largely the result of our first relationships with our caregivers.
When our attachment is healthy, we develop a secure attachment style. According to Attached authors Amir Levine and Rachel Heller, "secures" have a strong and stable sense of self-worth, have no problem being direct in relationships, and are comfortable with intimacy.
When however our caregivers inflict trauma such as sexual abuse or emotional neglect or fail to properly "attune" with us, our attachment is ruptured, and we develop an insecure attachment style.
Those suffering from insecure attachments not only struggle to maintain consistent self-worth – they are also more likely to struggle where it comes to forming healthy relationships.
Levine and Heller identify two insecure attachment styles as the most common: "anxious" and "avoidant".
Those with anxious attachment styles typically seek closeness and intimacy in their relationships. They fear abandonment and may engage in "protest behaviors", which include excessive attempts to reestablish contact, withdrawing, hostility, and manipulation.
Avoidants on the other hand like to keep their distance when in a relationship. They do this by engaging in "deactivating strategies": refusing to verbally commit or say "I love you", dodging physical or emotional closeness, nitpicking their partners, flirting with others, and longing after a "phantom ex".
Levine and Heller believe about 50 percent of the adult population have a secure attachment style, while roughly 25 percent are anxious, and the remaining 25 percent are avoidant.
One could argue that in the case of gay men, insecure attachment styles could be even higher. Consider for example the misattunement that results from a parent rejecting their child on the basis of their sexuality.
Notably, relational trauma can also shift securely attached people towards insecurity. The fact that "betrayal, abandonment, abuse, and chaos" is a gay relationship rite of passage for many, according to The Velvet Rage author Alan Downs, makes us even likely as a population to suffer from attachment issues.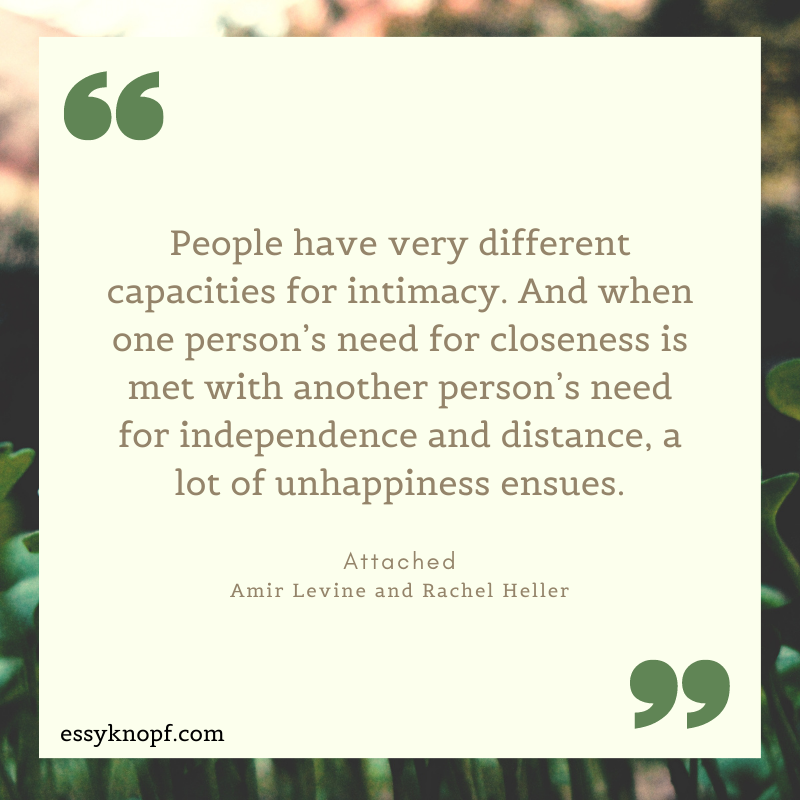 Which attachment styles are compatible?
Secure + secure OR secure + anxious/avoidant: Those with secure attachment styles can form strong relationships with each other and with the insecurely attached (anxious and avoidant). "Secures" are generally able to provide a "safe base" for their insecure partners, sometimes even help "heal" their attachment problems. But not always.
Anxious + anxious OR avoidant + avoidant: Anxious-anxious and avoidant-avoidant partnerships are less likely to work by virtue of their mutual difficulty forming healthy attachments.
Anxious people seeking reassurance from other anxious people are naturally a difficult proposition. Likewise, avoidants are not likely to date avoidants because of their mutual desire for distance and independence inevitably forces them apart.
Anxious + avoidant: Avoidants' tendency towards distance and independence is likely to unsettle their anxious partners, who thrive in an affirming, supportive environment.
When avoidants withhold intimacy from their anxious partner, the partner may confuse the resulting turmoil for passion. Attempting to re-establish relational equilibrium, the anxious partner may double down in their demands, only for the avoidant to withhold affirmation even more.
The pair thus will find themselves caught up in a spiraling push-pull dynamic that is sometimes confused for romance.
Forging a fantastic gay relationship
According to an attachment style quiz devised by Levine and Heller, I myself have a predominately anxious attachment style. Considering the behavior of my first boyfriend Kohei, I've concluded that he too was likely anxious.
Kohei's constant need for affirmation and intimacy might have been a non-issue for a securely attached partner. But for me, it was overwhelming, and I coped in the only way I knew how: by challenging and thereby trying to create distance.
Kohei's anxiety about the relationship understandably grew, until at least he issued a challenge of his own: either change my future parenthood plans or kiss him goodbye.
Remo on the other hand was most certainly avoidant. I was never permitted to get too close, and the more I sought reassurance, the more he withheld. My attempts to re-establish contact were met with veiled contempt.
Until I discovered attachment theory, the mechanics of a successful gay relationship eluded me, and gauging romantic compatibility was hit-and-miss.
Levine and Heller thankfully provide detailed strategies for coping with avoidant or anxious attachment styles. Their key advice is to seek out a more balanced pairing: secure + secure, secure + anxious, or secure + avoidant.
To determine the other person's attachment style, Levine and Heller suggest following these steps:
Determine whether your partner seeks intimacy and closeness.
Assess how preoccupied s/he is with the relationship and how sensitive s/he is to rejection.
Don't rely on one "symptom" – look for various signs.
Use effective communication: express your needs, thoughts, and feelings. Then assess your partner's reaction.
Listen and look for what he is not saying or doing. Trust your gut feeling.
A final word of caution to secures: helping someone with an insecure attachment shift towards more secure attachment patterns isn't always possible. Sometimes your partner may insist on clinging to their old ways.
The question therefore is, are anxious or avoidant behaviors something you are ultimately willing to overlook in your bid to forge a gay relationship? Can you learn to be satisfied with your partner's status quo?
For those with anxious attachment styles, remember that you're more likely to experience an avoidant out in the wild than any other attachment style.
Avoidants after all spend more time dating than in actual relationships, on account of their struggles forming healthy attachments.
Secures are also a lot harder to come by. Why? The ease with which they form healthy attachments means they're more likely to remain in relationships and are less likely to ever appear in the dating pool.
Takeaways
Identify your attachment style: secure, anxious or avoidant.
Use the five steps to determine your partner's style.
Seek compatible partnerships.
* Names and identifying details have been changed to protect the privacy of all individuals discussed in this article.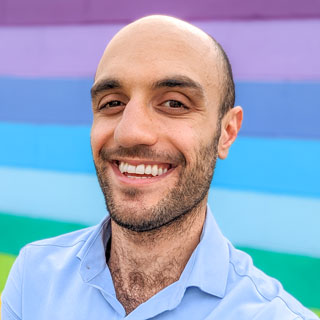 Essy Knopf is a budding social worker interested in best practices and exploring gay and autistic experiences. Subscribe to get all new posts sent directly to your inbox.
© 2022 Ehsan "Essy" Knopf. Any views or opinions represented in this blog are personal and belong solely to the blog owner and do not represent those of people, institutions or organizations that the owner may or may not be associated with in professional or personal capacity, unless explicitly stated. All content found on the EssyKnopf.com website and affiliated social media accounts were created for informational purposes only and should not be treated as a substitute for the advice of qualified medical or mental health professionals. Always follow the advice of your designated provider.