Dating apps are surveillance capitalism at its most cynical
Reading time:
6
minutes
Collecting our behavioral data for private profit is a now-standard business practice first pioneered by tech giants like Google and Facebook.
On this surface, this may seem to be a mutual exchange: products and services, in return for personal information and what The Age of Surveillance Capitalism author Shoshana Zuboff calls "behavioral surplus" data.
From this surplus, these companies are able to construct profiles that are then sold as a commodity to other businesses.
These profiles can also be used to "nudge, coax, tune, and herd [our] behavior" in a way that serves the interest of top bidders, such as through targeted advertising.
The people guiding this process—a mysterious, corporate-run "data priesthood"—operate from behind a one-way mirror. They might know everything about us, but we know next to nothing about them.
This priesthood's practice of collecting, selling, and exploiting our behavioral data has since been adopted by the likes of dating and hookup app operators, at great cost to our privacy—and wellbeing.
The normalization of surveillance capitalism
Zuboff argues that every time we give in to these companies and sign their obscure, incomprehensible terms-of-service agreements, we are handing over exploitable information about ourselves.
We comply with these agreements only because by now they appear bog-standard, and because they are a necessary hurdle to accessing services upon which we depend.
Fashioning an image of themselves as heroic entrepreneurs or authorities, data collectors buy our trust by promising "social connection, access to information, time-saving convenience, and, too often, the illusion of support".
Yet their true goal as Zuboff points out is to extract human experience as a raw material for profit.
But succumbing to the new form of power represented by these organizations shouldn't seem so inevitable. We still have the power to opt out.
Here's why it's crucial we exercise that power.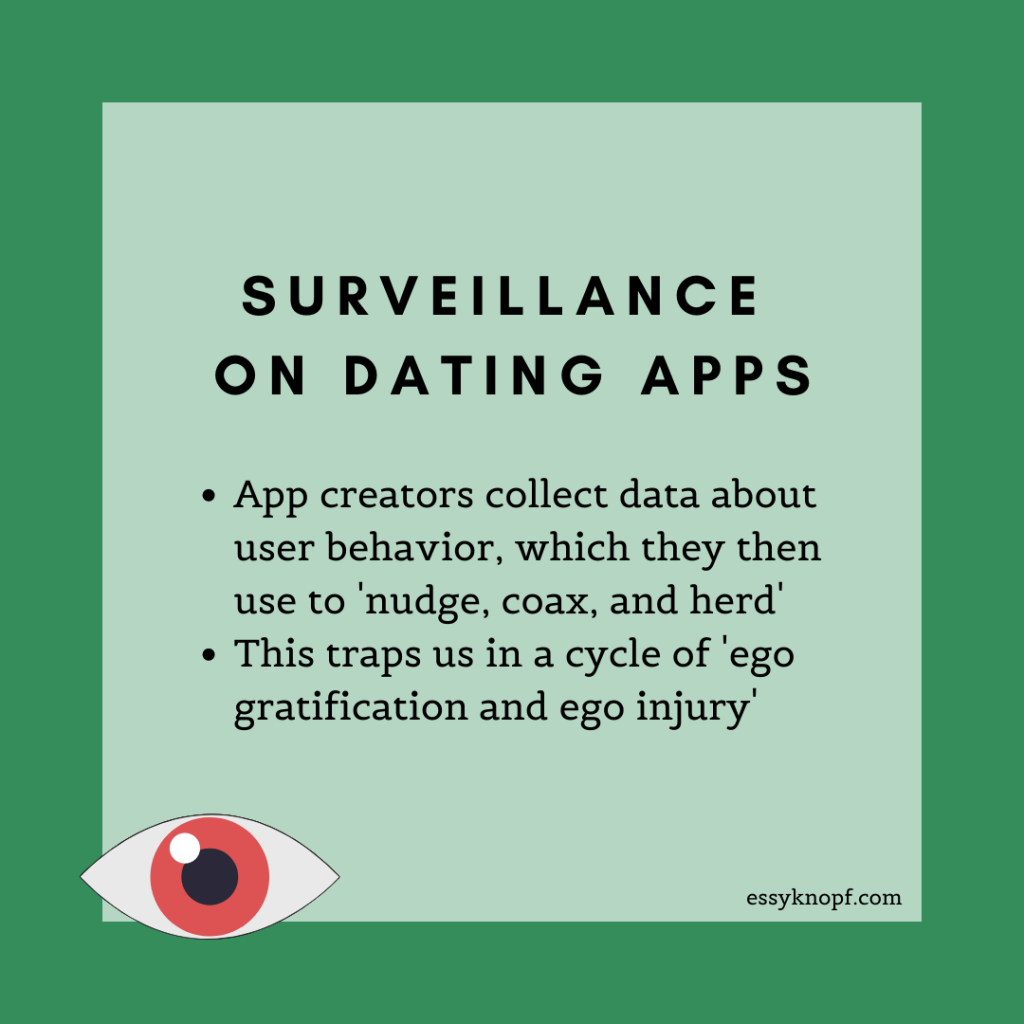 Surveillance capitalism in gay apps
In The Age of Surveillance Capitalism, Zuboff explains how the social media platform Facebook uses "closed loops of obsession and compulsion" pioneered by the gaming industry to engage and captivate users.
These loops rely upon "social pressure, social comparison, modeling, subliminal priming" to generate continued usage—and even addiction.
But Facebook is hardly the only surveillance capitalist organization to employ these techniques. Consider dating apps, which I've previously noted bear a chilling resemblance to Skinner boxes.
It's public fact that dating apps mine and retain our private behavioral data, including text, photos, and videos.
Some of us know that this data is being sold to advertisers or passed on to third parties, perhaps even foreign governments. This emerged as a major concern following the purchase of Grindr by Chinese gaming giant Beijing Kunlun.
What's not often discussed however is how app creators use behavior data to shape app design and to enhance the "hand-and-glove relationship of technology addiction", to use Zuboff's phrase.
For example, a cursory glance at Tinder reveals the creators have tuned the app design to generate more rewarding feedback, and thus more user engagement.
Consider the flashy animation and audio tone whenever you "match" with another user on Tinder—stimulation that's likely to cause a release of the neurochemical dopamine, associated with the sensation of pleasure.
This is a form of positive reinforcement that ensures many of us keep on playing the swiping game, at least until we hit a paywall.
Paywalls in this case are used to create the illusion of scarcity. When free users swipe "no" on an interested candidate, the app will notify them they have missed a potential match, then suggest relieve the resulting fear of missing out (FOMO) by purchasing the right to chat with this other user.
Similarly, by offering a limited amount of free "likes", the app levers loss aversion to coax users into buying a subscription.
App designers also nudge us to return to the app using push notifications. These notifications are also used to promote flash sale promotions or advertisements.
The examples provided here are blatant examples of the manipulation Zuboff describes. However, it's the examples we don't know about that I believe we should be most worried about.
The danger of manipulative app design
Zuboff cites studies that reveal the particular vulnerability of teenagers to social media addiction, owing to their development age.
Yet I would argue that people of all ages—gay men included—face a similar hazard in an always-online world, especially given the decline in public gay spaces in the wake of COVID-19.
As a result, we may find ourselves constructing and displaying our gay identity in alternate venues, such as dating and hookup apps.
Much like social media, these apps coerce us into continued usage through social comparison.
Combined with the addictive design of these apps, our self-value and personhood may become tethered to the ongoing gaze and approval of others.
If we don't practice mindfulness, we are at risk of being caught in a toxic cycle, wherein "ego gratification and ego injury drive the chase for more external cues".
To explain: when we are ignored or rejected on these apps, gratification is denied, and our ego is injured.
We may try to soothe that injury by pursuing still more gratification, returning over and over to the app for our fix.
The shallow, mechanical, and objectifying exchanges that often ensue are a far cry from the acknowledgment and affirmation we are seeking.
As we hover over our phones "anxiously awaiting the appearance of the little notification box as a sign" of our self-worth, we suffer a slow extinction by a thousand snubs.
For "Without the 'others'," Zuboff writes, "the lights go out."
How surveillance capitalism hurts us
Enter dating and hookup apps with their endless stacks and grids of attractive faces and torsos.
In the case of gay men, this social comparison is taken to a new level: we aren't just competing for the attention of other users, but also against them.
The competition for the best possible "match", when combined with the illusion of scarcity, fuel FOMO regarding potential romantic or sexual interests.
Our interactions on these apps come to resemble some overwhelming game of chat whack-a-mole, in which we try desperately to catch, hold and hoard other's attention.
It's a game that often feels futile, as interest fluxes and users log on and off, often without explanation. Being shunned or ignored is commonplace, as is deception.
For instance, it's not unusual to realize mid-chat that the person on the other end either isn't who they claim to be—or is actually a chatbot.
Certainly, where dating is concerned, rejection is par for the course. But when identity and self-value come into question, as it so often does on these apps, the stakes often feel so much higher, as anyone who has ever found themselves caught in a flame war can attest.
Creating app-based addiction
To recap: surveillance capitalism allows creators to monitor users' behavior and then use the resulting data to control us, for example through the gamification I've described above.
Like gamblers denying the odds, we keep coming back, even attempting to turn these odds in our favor by curating a profile we know will maximize user engagement, even to the point of trickery.
It is human nature to selectively present the best parts of ourselves, but these apps seem to actively encourage selective self-representation by providing profile fields that cater to one-dimensional hypersexuality.
Limiting as it is to be defined only by the minutia of one's erotic interests, many users inevitably fall into line. Some do it in the name of efficiency or practicality, others in the name of achieving the success of a date, a hookup, or simply being messaged.
When taken to the extreme, users will adopt a completely different identity, knowing it will likely entice messages or photo exchanges.
Instant messaging is inherently rewarding, but add to this the ever-present possibility of sexual attraction or rejection, and users are pushed into heightened states of anxious arousal.
With enough exposure, we run the risk of developing an app-based process addiction.
Defying surveillance capitalism
Today's tech-dependent world has arguably left us all pawns of surveillance capitalism.
Dating and hookup app creators aren't in it just for paid subscriptions. They want control of our behaviors and habits, a reality that is by now an open secret.
Fuelling addiction enables these creators to expand their subscriber base. The larger the subscriber base, the greater the behavioral surplus they have at their disposal.
The greater the behavior surplus, the more practical data they can harness in the name of fuelling addiction.
If your data isn't resold, it is at the very least exploited by app designers to keep the "hand firmly in the glove".
The Age of Surveillance Capitalism provides perhaps the most chilling argument yet against dating and hooking apps. There are still many more.
Yet given how reliant some of us have become upon them, quitting may seem next to impossible.
If even a small part of this article has given you cause for alarm, perhaps now is as good a time as any to consider some of the more wholesome alternatives.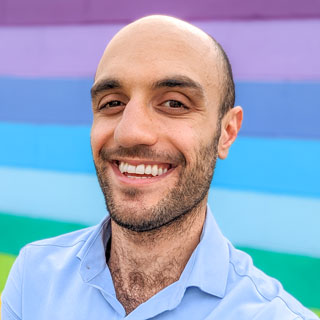 Essy Knopf is a budding social worker interested in best practices and exploring gay and autistic experiences. Subscribe to get all new posts sent directly to your inbox.
© 2023 Ehsan "Essy" Knopf. Any views or opinions represented in this blog are personal and belong solely to the blog owner and do not represent those of people, institutions or organizations that the owner may or may not be associated with in professional or personal capacity, unless explicitly stated. All content found on the EssyKnopf.com website and affiliated social media accounts were created for informational purposes only and should not be treated as a substitute for the advice of qualified medical or mental health professionals. Always follow the advice of your designated provider.