Is 'choice' in app-based dating really just a cruel illusion?
Reading time:
7
minutes
Personally, as someone with a natural tendency for obsessive compulsiveness, I find app-based dating about as stressful as clothes shopping.
My visits to the mall usually begin with a single aspiration: buying a pair of jeans. I'll usually give myself just an hour to make a decision. But this attempt at self-discipline rarely is a good idea.
What begins as a low-pressure routine trip quickly ends up becoming a race to find the best deal. Wandering from store to store, I'll compare fit, color, and price, and how each option ranks alongside those I find online.
Before I know it, the internal timer will hit the hour mark and I'll be forced to settle on a candidate.
Head spinning, I'll collapse into the nearest seat, overwhelmed by the possibility that for all my research, I may very well end up making the wrong choice.
This "analysis paralysis" usually results in me returning to my car, driving home, and spending the next two hours browsing online until I've found an even better deal.
The tyranny of choice in app-based dating
Picking a pair of jeans is not a life-or-death type of situation, but for me, it certainly feels like one. Whatever savings I may make along the way are almost always negated by the stress I accrue as a result of my exhaustive (and exhausting) search.
Worse still, when the jeans I ultimately select arrive in the mail, I'll often discover they're a bad fit…meaning an even longer wait for a replacement pair.
It's a development I could almost certainly avoid if I just settled for an in-store option. So what exactly is stopping me? A little something economists refer to as "loss aversion".
No one resents the freedom to choose, or the benefits, conveniences, and privileges it affords in today's world. But there are instances—like the one above—where choice can tyrannize, rather than liberate.
The downside of living in a consumerist society is that it often leads to a mindset governed by what author David Brooks calls a "utilitarian calculus".
That is, we look at everything in terms of personal utility or gain. Not even interpersonal relationships are immune to such cynical assessments.
People who have fallen prey to "utilitarian calculus" are what The Paradox of Choice author Barry Schwartz calls maximizers. When confronted by a purchase decision, maximizers almost always pursue the "best" possible option.
Maximizers are consumed by the need to be conscious and deliberate about every choice. They are extremely averse to losses but also regret. For that reason, they are more often than not hamstrung by their pursuit of perfection.
As in my case, shopping for the "best deal" when confronted by an endless array of choices can lead to mental overload. It can also deprive us of valuable time and energy.
As Schwartz writes:
"Nobody has the time or cognitive resources to be completely thorough and accurate with every decision, and as more decisions are required and more options are available, the challenge of doing the decision making correctly becomes ever more difficult to meet."
The perils of 'maximizing'
Consider this quote in light of gay app-based dating. A maximizing mindset seems baked into website and app design, with features that make screening, excluding, and selecting effortless.
We are able to set filters to identify people who fall within a narrow set of idealized parameters. We swipe to dispose of undesirables, and "favorite" to build a list of prospective lovers.
But as Schwartz points out, dating app maximizers sooner or later run up against the following conundrum: "How can anyone truly know that any given option is absolutely the best possible?"
The fact is, we never really can, a fact that continues to haunt maximizers well past the point of having made a decision.
This may explain why many app users avoid meeting; who ghost and flake on a whim. Barring obvious reasons—such as being on the app purely out of procrastination or a desire for validation—these individuals may feel confronted by your request for them to make a decision.
While meeting for a coffee is not exactly a marriage proposal, it does require some investment of time and energy. It is by no means a commitment, but it is a choice all the same.
That choice comes inevitably at the cost of other choices. For instance, spending facetime with one person for example means possibly missing out on facetime with someone else who happens to be available and interested at the same time.
Not a significant loss by most measures, but ask a maximizer who lives with background anxiety of loss and regret aversion and they may disagree.
This anxiety and agonizing about supposed trade-offs however can ultimately thwart the maximizer's search.
Ignoring those of us who use app-based dating for the thrill of instant messaging and sexting, the remainder we can safely assume are looking for some form of in-person interaction.
Monitoring our usage of these services reveals that we spend a lot of time information gathering for the "best option"—swiping, starring, filtering, blocking, chatting—time that is rarely proportional to any tangible outcome.
Sooner or later, we hit a point of diminishing returns. The "fun" offered by the often gamified app-based dating services diminishes, and we log off. (And unless we delete our account, it's likely we'll find ourselves hopping back on again for a quick attentional fix when boredom or desire strikes.)
The illusion of choice in app-based dating
While these apps are forever dangling the possibility of a "better option", they're also distracting us with addictive casual gaming mechanics.
Even if we emerge from the use of app-based dating without a process addiction, our quest for maximization will prove neverending.
Consider the ever-shifting availability of possible partners. Attention from these individuals will oscillate, peaking at certain hours, falling during others, even dying off suddenly and inexplicably.
Consider also the fact other users harbor a variety of motives. Even supposing they happen to share ours, there's often a difference between stated motives and true motives.
A chat partner may say they are looking to date, but that may simply be a front aimed at sustaining the interaction. Or it may also be one of many conflicting and competing motives.
What this means is that in many cases one user's stated desire to date could be abandoned the instant they are presented with an offer of immediate sexual gratification. (To quote the Nelly Furtado song "Promiscuous": "Chivalry is dead / But you're still kinda cute")
Finally, while it may seem that you have total freedom to choose a romantic partner, that freedom is not exclusive to you. The other person has the right to their own choice, which will not necessarily align with yours.
Assuming your maximizing instincts don't first paralyze you, there's always the possibility your decision might be thwarted when the other person fails to reciprocate your interest.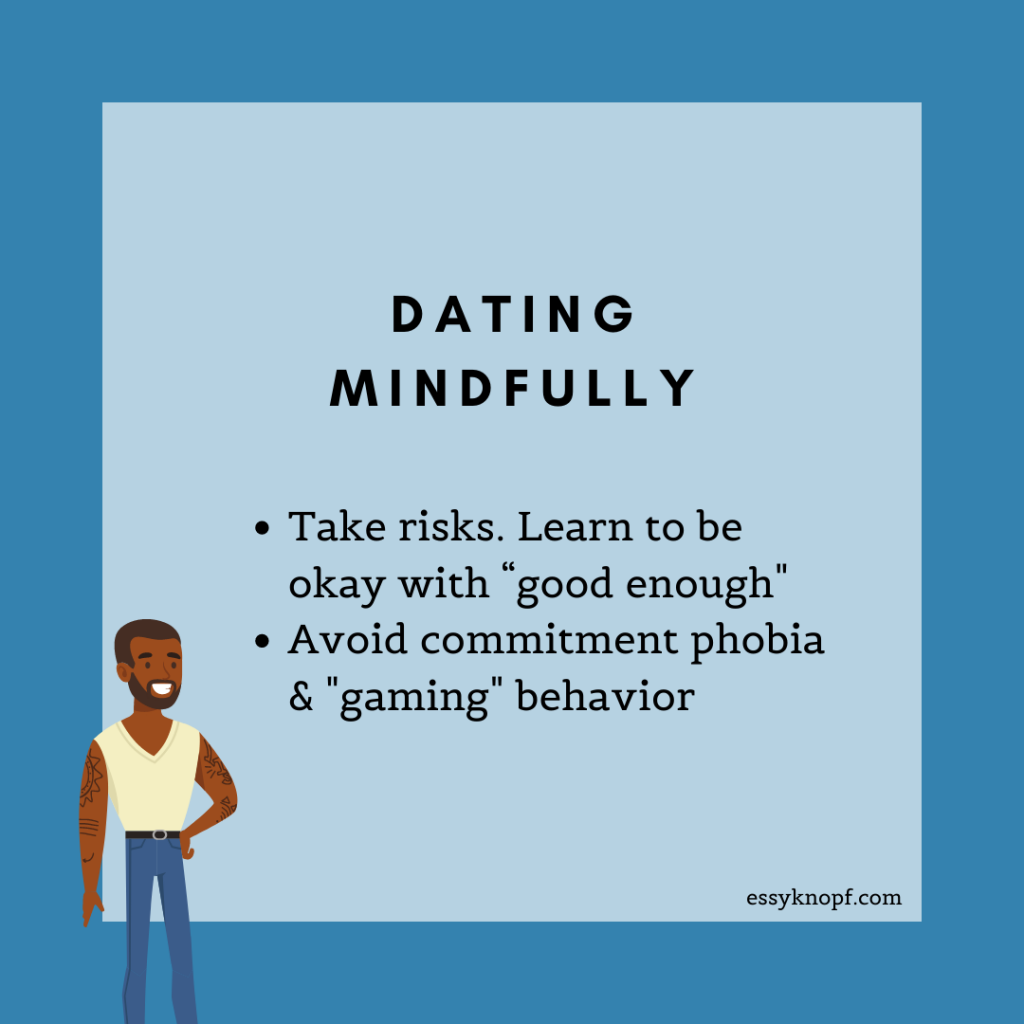 Confusion, commitment phobia, and 'gaming'
The opposite of a maximizer is the satisficer. Like the maximizer, the satisficer will be discriminating when it comes to selecting a romantic partner. They are also capable of being satisfied with excellence, as opposed to some impossible ideal of perfection.
Where maximizers are picky about finding "the best", satisficers carefully weigh the options before accepting "good enough".
Schwartz says the distinction is essentially a philosophical one:
"A chooser is someone who thinks actively about the possibilities before making a decision. A chooser reflects on what's important to him or her in life, what's important about this particular decision, and what the short-and long-range consequences of the decision may be. A chooser makes decisions in a way that reflects awareness of what a given choice means about him or her as a person. Finally, a chooser is thoughtful enough to conclude that perhaps none of the available alternatives are satisfactory, and that if he or she wants the right alternative, he or she may have to create it."
When juggling options on Grindr, Scruff, or Tinder, we exercise our rights as romantic and sexual "consumers". But what we don't do is reflect on what's motivating our behavior.
Yet effective dating arguably can only happen once we have a clear and consistent understanding of what we're seeking, and why.
How do we arrive at such an understanding? We apply the Five W's and the one H:
Who we are looking for (what kind of person)?
What type of interaction are we interested in (hookups, dating, relationship etc.)?
When do we want this interaction to take place?
Why this interaction in particular? (To put it another way, how will this interaction contribute to our long-term goal?)
How do we intend to establish that interaction? (What methods will we use?)
Sounds obvious. And yet more often than not, our focus is confused. There are simply too many options that maximizers are forced to treat app-based dating as a game of elimination.
Our focus in this game is less on identifying a suitable partner than it is removing options from the dating service pool, often for the most arbitrary reasons ("I don't like his hairstyle", "He seems too needy", "He lives on the other side of town").
Gamified app designs, such as the swipe mechanic used by Tinder, encourage users to continually "prune" options, often to the point of distraction.
Another factor is that we as a culture are commitment-phobes. More often than not when dating, we become locked in a maximizing mindset, hellbent on securing an option that ticks off an often superficial, if not an impossible shopping list of personal traits.
Forever scanning our grid or swipe stack, we "trade up" prospective candidates like indecisive children in the candy aisle, stricken by the possibility that the one candy we select comes at the exclusion of other, possibly better selections.
Maximizing also can lead to "gaming". Caught up in maximizing rewards, our initial goal ("meeting someone with whom I share chemistry and/or compatibility") becomes something more vague and insatiable ("getting as much validation as possible").
To put it another way, we go from treating romantic attention as the means by which we achieve some kind of relationship, to attention exclusively becoming the ends.
Caught up in the fun game of projecting desirability and provoking engagement, we spend our time manipulating the attention-based economy of dating services in order to get our attention fix.
'Shoulda, coulda, woulda'
When our focus is confused, when we shy from committing to a choice, and when we're caught up in gaming app-based dating, we treat self-awareness as an obstacle to our purpose.
Yet so long as we're driven by blind instinct rather than introspection, that purpose risks becoming more and more unclear.
More effective and productive use of our time would involve choosing with purpose, rather than selecting on a whim. Namely, satisfying, rather than maximizing.
If we give in to maximizing, we may find ourselves prone to bad decisions, anxiety, stress, dissatisfaction, and even depression, Schwartz warns.
To maximize means to be driven by a fear of loss and regret, to succumb to "shoulda, coulda, woulda"-style doubts.
Regardless of what our moment-to-moment motives on app-based dating services are, what we are all seeking as human beings, ultimately, are meaningful connections.
But where such connections are concerned, one can only maximize so far. People are by nature imperfect, so pursuing "the best" is a quest that – let's be honest – is doomed from the outset.
Takeaways
Recognize that "maximizing" is driven by loss aversion.
Avoid dating app commitment phobia and "gaming".
Try "satisficing". Mindfully seek "good enough".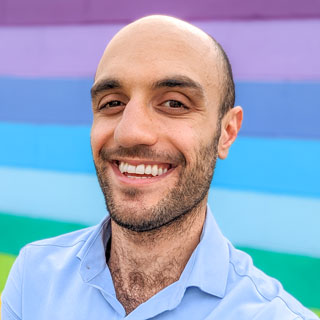 Essy Knopf is a budding social worker interested in best practices and exploring gay and autistic experiences. Subscribe to get all new posts sent directly to your inbox.
© 2023 Ehsan "Essy" Knopf. Any views or opinions represented in this blog are personal and belong solely to the blog owner and do not represent those of people, institutions or organizations that the owner may or may not be associated with in professional or personal capacity, unless explicitly stated. All content found on the EssyKnopf.com website and affiliated social media accounts were created for informational purposes only and should not be treated as a substitute for the advice of qualified medical or mental health professionals. Always follow the advice of your designated provider.