Reading time:
5
minutes
Surviving the social work profession ultimately comes down to the self-care habits you establish in social work school.
The strongest habits reflect an understanding of priorities. Amid all the competing demands of school, you may ask yourself which to put first.
Is it school? Your placement? Your job? Your family? NOPE.
Your number #1 priority is—and always should be—you. Because without health and wellbeing, you can't properly attend other all the other priorities.
Many folk regard self-care as a nice "add-on" to their daily routine, such as a kind act towards one's self, like taking a bath or getting a massage.
Such acts certainly matter, but self-care most importantly is ensuring you are getting the necessary sustenance for your body, mind, and spirit.
I'm someone who considers myself to be fairly well-versed in self-care principles. But even so, I still struggle to practice it.
What doesn't help is that I, like most, have certain gaps in my knowledge of self-care principles. For example, it was only in my late 20s that I found out about sleep hygiene, a practice essential to getting a good night's rest.
For this reason, I'm going to start with a brief overview of the five fundamentals of good health (some of which I touched upon in my previous post on social work self-care).
The five fundamentals of self-care
1. Eating well. As social work students, we will often be so busy we end up relying on takeout.
We can avoid this by meal planning and cooking in batches. Aim to get plenty of fresh plant-based nutrition.
2. Getting sleep. While it's not always possible, we should always strive to go to bed and get up at the same time each day.
This is one part of practicing good sleep hygiene. Here are some other suggestions. Note that experts recommend getting seven to nine hours of sleep each night.
3. Exercising daily. All of us should aim for 30 minutes of "sweat-breaking" exercise every…single…day. Yep, you heard right!
If you're short on time, consider doing a YouTube aerobic class. Failing that, try for a 20-minute walk around the block.
4. Staying social. It's crucial that we dedicate time every week to enjoying the company of friends, family, peers, and partners. It's all too easy otherwise to find ourselves caught up in an endless cycle of study.
5. Limiting intake. Sure, caffeine can help us shake off tiredness. And alcohol may help ease stress. But taken in excess, they may do us more harm than good.
The same can be said of highly processed foods. When we're strapped for time or low on funds, it's all too easy to reach for a packet of potato chips or a can of soft drink.
Try to stock your pantry and bedroom with healthy snacks. The proximity of these snacks can help you with resisting the urge to splurge on junk food.
Enhancing mental resilience
Laying the foundations for good health has the added effect of supporting our mental health—a quality crucial to survival in this profession.
Given some of us come to social work with a history of our own, stress can have the effect of triggering existing anxiety, depression, and/or emotional reactivity.
The good news is that these challenges can be addressed with time and daily effort.
Here are some techniques that can help with maintaining your mental resilience.
1. Meditation. This can be either guided or self-guided.
2. Breathwork. One example of this is the 4, 7, 8 technique
3. Grounding exercises. For instance, body scans.
4. Yoga. These days, yoga can be practiced from the comfort of your home, thanks to the variety of free classes available on YouTube.
5. Gratitude. A gratitude practice can include keeping a daily journal. Consider also writing down five things you're grateful for on a regular basis, and/or sharing them with an accountability partner.
6. Affirmations. If you're stuck on how to practice affirmation, consider using prompt cards.
7. Prayer. If you are spiritual or religious, know that prayer can have benefits similar to those granted by meditation.
8. Psychoeducation. Those of us with personal challenges such as anxiety and depression may find some benefit in self-education via bibliotherapy.
9. Therapy. Know that for many social work students, therapy services can be accessed for free through their school's health center.
Coping with anxiety
Experiencing anxiety while attending school is perfectly normal. Taken to the extreme, however, it can be crippling. Understanding the mechanics of anxiety may go a little way to helping.
Anxiety boils down to overestimating a threat and underestimating your safety and ability to cope. Of course, knowing this is one thing, but dealing with it is another matter altogether.
For this reason, I would recommend revisiting the five fundamentals of good health discussed above. Are you fulfilling all of them? And if not, could this be contributing to your current stress?
After you've done this, ask yourself if exploring one or more of the practices I've suggested might help.
Failing this, know that you don't deserve to suffer in silence. Ensure you seek support, whether from family, friends, your school, or community mental health services.
Self-education as self-care
Above I suggested seeking psychoeducation about mental health challenges through bibliotherapy. Here are some books I have read and can personally vouch for.
1. The Anxiety & Worry Workbook by David A. Clark & Aaron T. Beck. This book contains worksheets that can help you with addressing your anxiety using Cognitive Behavioral Therapy (CBT).
2. The Happiness Trap by Russ Harris. This book offers exercises that draw upon some very useful Acceptance and Commitment Therapy (ACT) principles and skills.
3. Feeling Good and When Panic Attacks by David D. Burns. These books draw upon CBT to teach readers how to overcome depression and anxiety.
If you're interested in exploring mindfulness and applying some of the principles to your life, there are three additional books you might want to investigate.
4. Full Catastrophe Living by Jon Kabat-Zinn.
5. The Places That Scare You by Pema Chödrön.
6. When Things Fall Apart by Pema Chödrön.
Self-care and overcoming social work imposter syndrome
It seems that social work imposter syndrome is a rite of passage—but also a positive sign that you're on the way to becoming a competent social work professional.
Imposter syndrome after all indicates self-doubt. And self-doubt reflects self-reflection, which is the first step to self-improvement.
Still, when engulfed by these negative feelings, it's helpful to remind yourself of the following advice by Judith S. Beck, from her book Cognitive Behavioral Therapy: Basics and Beyond:
My goal is not to cure this client today. No one expects me to. My goal is to establish a good relationship, to inspire hope, to identify what's really important to the client, and perhaps to figure out a step the client can take this week toward achieving his or her goals.
What Beck is stressing here is that the only true measure of professional success in this profession boils down to a single factor. And this factor is our willingness and ability to meet our clients where they are at.
Wrap up
If you've found any of the self-care advice I've shared here useful, let me know in the comments.
And if there's anything you'd like me to cover, reach out and I'll do my best to address it in a future blog post and video.
Please note that all of these tips and more are available in my free guide to surviving and thriving social work school.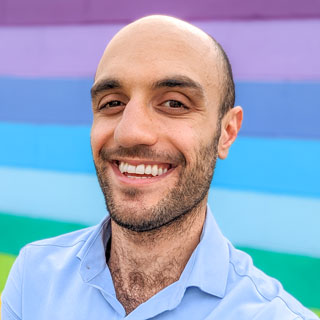 Essy Knopf is a budding social worker interested in best practices and exploring gay and autistic experiences. Subscribe to get all new posts sent directly to your inbox.