Why grieving the heteronormative life gay men were promised is okay

Reading time:
7
minutes
You would think that as gay men, we shouldn't be bound by the same life goals as our straight counterparts.
Yet as much as we try to shuck off the expectations inherited from heterosexual living, many of us still continue to be burdened by them.
I remember as a child studying the greeting card stands at newsagents, noticing how certain birthday ages seemed to be assigned greater importance.
"Thirty" was one of them: a perfectly rounded number signifying the transition to competent maturity. An expectational cut-off point for all the usual milestones.
Until my teen years, I harbored ideas about the life I would live. They weren't necessarily my own, but rather the ones all boys were prescribed: a wife, kids, and a house in the suburbs. 
All of this, I somehow believed, I'd attain by the age of 30. But as my interest in other boys grew, I was eventually forced to surrender these signifiers of adulthood for the wicket picket fence dream they were.
Thirty is, when you think about it, an arbitrary number. Life expectancies in the West have steadily risen. We live for much longer now, and our lifestyles have shifted to accommodate this.
Couples are having families later, and a growing gap between income and real estate prices has rendered homeownership impossible for many.
Yet when my third decade rolled around, I couldn't help but feel like something was missing. Not only had I clung to those old expectations – I also secretly believed my worth as a person depended upon their attainment.
I found myself scrutinizing the zigzagging missteps of my life, criticizing each and every false move. Maybe if I had stayed in one city and planted my roots somewhere, I'd have a wider, stronger circle of friends; possibly even a partner.
Maybe if I hadn't devoted most of my income to creative projects, I'd now have something approaching financial security. Maybe if I had kept my aspirations humble, I might have something more tangible than life experiences to show for it all. But to show whom, exactly?
I had lived what Passages author Gail Sheehy called the "wunderkind" life pattern, caught up in chasing risks and victories. I had deceived myself into thinking achievement would blot out insecurity, to discover that the victories I did achieve were ultimately empty.
To quote one of the men interviewed by Sheehy: "I'm near the top of the mountain that I saw as a young man, and it's not snow. It's mostly salt".
Gay men and the failure of dreams
What troubled me most was an unarticulated belief that in spurning the dependable comforts of home and family, I had failed and was now declining into a life of gay spinsterhood.
I convinced myself that the connection and happiness I was seeking would forever remain out of reach. Everything I told myself to the contrary was just whistling in the dark. How's that for a catastrophic spiral?
Life after 30 for some gay men is riddled with uncertainty. Society promised us one thing – then biology pulled the rug out.
Logging onto Facebook today, I see people I've grown up with buying homes, marrying, and having children. While they were hitting their life goals, I was like a wheel, spinning in the mud.
Resist comparative thinking
Comparative thinking is especially destructive where it comes to gay men. It does not acknowledge the fact that straight people have thousands of years of social tradition working in their favor. The modern gay community, on the other hand, is without precedent.
Worse still, in the spiritual teachings handed down to us, homosexual people are typically cast as undesirables living in the margins. There is little to no guidance offered to gay men committed to living an authentic, value-led existence.
Comparative thinking also fails to account for heterosexual privilege. Straight people by virtue of their sexuality don't experience the specific kind of trauma, marginalization, and disadvantage we do.
And let's not forget the fact that many gay men in the West could not, at least until relatively recently, get married. No surprise then that we should struggle to achieve these life goals at a speed comparable to that of heterosexual men.
The journey faced by all gay men
Still, as we grow older, missing familiar life milestones along the way, some of us may find ourselves asking: "So that's it?"
We may flee our shame, grief, and dread, into the wilderness of material and sensual distraction.
For some gay men, however, these feelings are an opportunity to address the desires we once held for ourselves and begin the process of rewriting them.
In facing our supposed failings, we find we have no choice but to remove the yoke of social expectation. Those of us who make the journey through this valley of symbolic death will face the assailing winds of pain and doubt.
But if we push on, we will most certainly emerge anointed with a newfound sense of personhood. For it is in the struggle that we learn to articulate our personal definition of a "life well-lived".
This journey does not simply involve grieving the things that could have or "should have" been: the children to whom we might have left our legacy, the symbolic safety that a life partner or a home offers. It also involves grieving the life that simply "is".
For a long time, I pretended I was fine, that growing up as a gay man with a disability, suffering exclusion, bullying, the slow implosion of my family and the figurative loss of my parents had not affected me.
Attempting to escape the resulting depression and anxiety, I connected my sense of worthiness to striving and constant forward action. By setting milestones of my own making when those prescribed to me were no longer possible, I found purpose through achievement.
But to value one's self conditionally is to live conditionally. And living conditionally is a life defined by fear, not fulfillment.
According to The Velvet Rage author Alan Downs, fleeing from pain into grandiosity is an almost universal behavior among gay men. Entering my 30s proved the tipping point in this regard. It was also an invitation to change.
Entering the 'neutral zone'
What I lamented when I turned 30 was the fact I had not fulfilled socially prescribed rites of passage.
Rites of passage help mark the onset of new stages of life or social roles. Dutch anthropologist Arnold van Gennep defines each rite as having three stages:
Separation of the individual/group from the larger collective.
Transition from the old ways of existence to the new.
Incorporation of the individual/group back into the collective.
Gennep noted that during the transition phase, those making the journey will find themselves caught in a neutral zone, where they would remain until the change has been internalized.
Transitions author William Bridge argues that completion of the middle step means letting go of "something that you have believed or assumed, some way you've always been or seen yourself, some outlook on the world or attitude toward others".
This requires passage through five states:
Disengagement from "the old cue system that served to reinforce our roles and to pattern our behavior"
Dismantling of old habits and behaviors
Disidentification from old ways of being
Disenchantment: realizing you do indeed want to change
Disorientation: enduring the confusion and emptiness that follows your choice to let go
According to Bridge, a successful passage is thus marked by a willingness to let go, to experience the resulting crisis, and to embrace self-examination.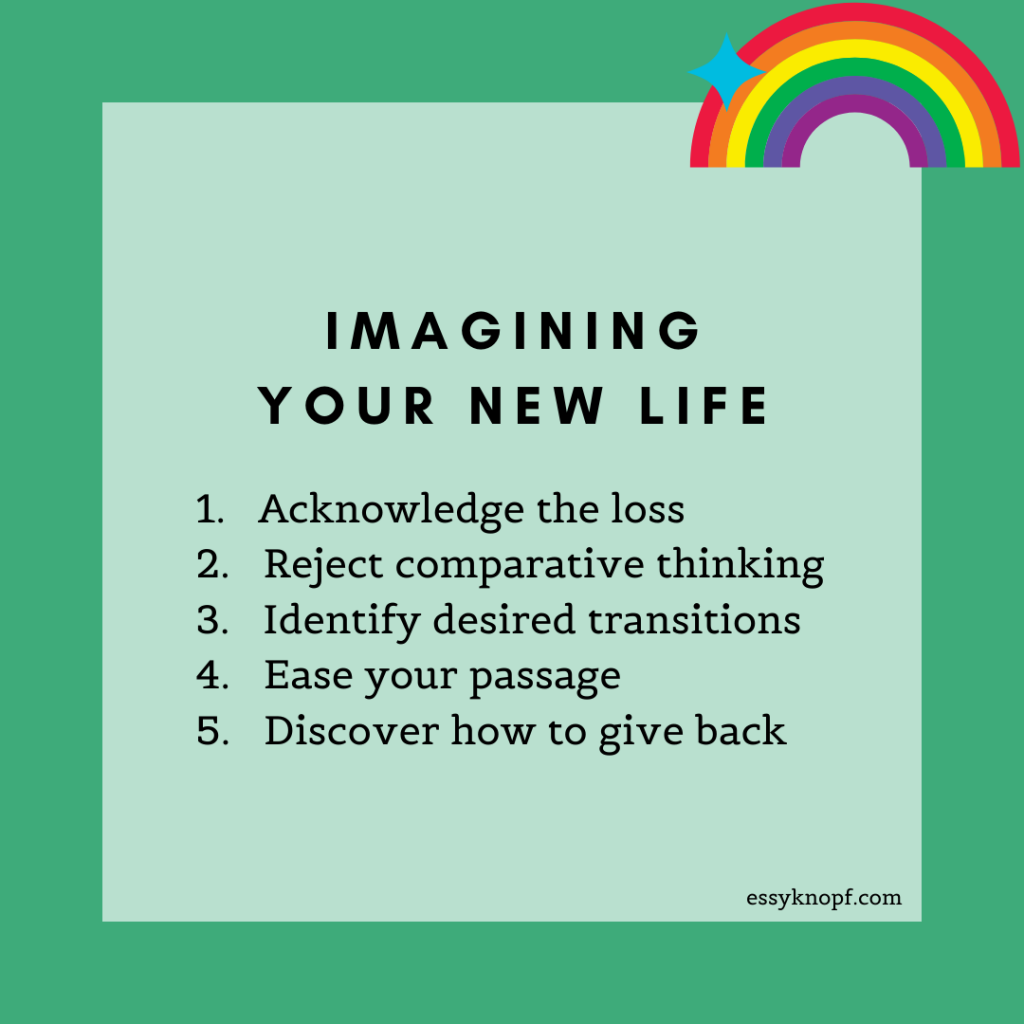 Seeking alone time
The middle step for me involved disengaging from systems that perpetuated my sense of having failed. Specifically, I applied "voluntary simplicity" to my social media usage, reducing and sometimes cutting it off altogether.
Why? You may have heard of the phrase conspicuous consumption: the purchase of luxury goods as a display of economic power. Social media I believe facilitates what I'll call "conspicuous identification": promoting images of an ideal self in a bid to capture social capital.
By disabling my Facebook feed with a browser plugin and deleting social media apps from my phone, I dismantled my habit of mindless scrolling, putting an end to what David Brooks calls the "hypercompetitive struggle for attention, for victories in the currency of 'likes'".
No longer did I need to compare myself to others, to analyze where I had supposedly fallen short.
By negotiating with my employer to switch from full-time to part-time work, I was able to disidentify from the rat race and my sense of self as an achievement.
In cocooning myself in therapy and self-help books, I gained better insight into the disenchantment I was feeling. I formed a daily meditation practice to help find meaning in the midst of my disorientation, placing me on the path of self-realization.
While dwelling in the neutral zone, I cultivated self-compassion and started deliberately setting aside time for things as simple as relaxing. I suddenly found I had the time and energy to work my way through aspirational to-do lists, lists that I long since consigned to the dust heap.
This allowed me to embrace those beliefs that were of most value to me while discarding those that had only kept me shackled to unhappiness.
Coming of age as gay men
Coming of age for many gay men means learning to surrender the baubles of distraction and to grieve old hopes.
In learning to let go of what we may have long clung to, we escape an existence governed by impossible dichotomies like success/failure, worthy/unworthy, good/bad, and come into an inheritance of vast inner wealth.
Without the struggle, there are no spoils. So it was, that in finally confronting the source of my inner torment, I understood that while my life had not "gone to plan", my experiences had endowed me with compassion and empathy.
This realization inspired a career change, a shift towards a life of service, and the decision to launch this blog. 
Psychoanalyst Erik Erikson argues that from our 20s onwards, we are caught between two opposing forces: intimacy and isolation. Once we have established a firm sense of identity and a desire to share our lives with others, a choice that may not come until our 40s, the struggle after this period becomes one between stagnation and generativity.
If we choose generativity, we achieve new levels of creativity and productivity in the service of others. We discover a life path oriented toward prosocial behavior and altruism.
It is only now, years after crossing the gulf of what I then saw as a major crisis, that I recognize the true value of the life I now live. And all things considered, I'm doing pretty darn well.
For those of you committed to making this transition, as countless others have done before you, I offer this assurance: you'll probably think so too.
Takeaways
Recognize how you might experience disengagement, dismantling, disidentification, disenchantment and disorientation during this transition.
Find wholesome ways of easing your passage through the neutral zone.
Imagine what generativity might look like for you.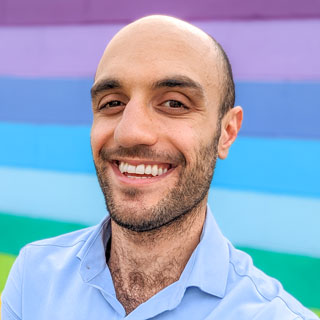 Essy Knopf is a budding social worker interested in best practices and exploring gay and autistic experiences. Subscribe to get all new posts sent directly to your inbox.
© 2023 Ehsan "Essy" Knopf. Any views or opinions represented in this blog are personal and belong solely to the blog owner and do not represent those of people, institutions or organizations that the owner may or may not be associated with in professional or personal capacity, unless explicitly stated. All content found on the EssyKnopf.com website and affiliated social media accounts were created for informational purposes only and should not be treated as a substitute for the advice of qualified medical or mental health professionals. Always follow the advice of your designated provider.