Reading time:
7
minutes
Anxious Seeks Canine is a memoir blog series about a gay man living with Asperger's, mental illness, and the relationships that may very well be fueling it. Names and identifying details have been changed to protect the privacy of all featured individuals. Except for the dog. Here's part 1, 2, 3, 4, 5, 6, 7, 8, 9, 10, 11, 12, 13, 14, 15, 16, 17, and 18.
---
I
After weeks of preparation, I released my first feature documentary, marking the occasion with a free screening at a local community theater.
It should have been an occasion to celebrate, yet my mood at that point was far from celebratory.
Juggling work, my side projects, and Cash had left me drained. Then I'd gone and added organizing venue hire, promotion, and catering into the mix.
There was only so much time in the day, and so I'd been forced to cut down on my sleep. My immune system crumpled, and within days came down with yet another cold.
When it came time to stand in the wet, open-roofed lobby of the theater and greet attendees, I was in the height of my illness, complete with a croaky voice, stuffy nose, and fits of sneezing.
At my back stood a promotions board, covered with faded photos, dogeared flyers for elementary school productions, and posters celebrating a one-woman show by a Jewish comedian titled "I'm Just Yidding".
Within stood what might have passed for a wood-paneled rumpus room that hadn't been renovated since the 60s. Even with the lights turned on, it was dim, grotto-like. The chairs were fuzzy plaid, the color of mulch, and the projector was about as bright as my phone screen.
Backstage, I'd found an antique computer for controlling the lights. It came equipped with a monitor so antique it displayed one color only: acid green.
It wasn't much, certainly – but it was the best I could afford on my budget. Having not yet sold the film, I was paying for the entire launch party out of my own pocket. In true anything-for-art fashion, I was spending money that I should have been saving for replacing threadbare socks.
The film was warmly received, even getting a few laughs. Yet afterwards, sitting in my car, I couldn't help but feel dejected.
Of the 70 people who had RSVPed, only 10 had shown up, most of which had been friends of friends. Then again, a documentary about disability wasn't exactly anyone's idea of a perfect Friday night date movie.
And, much as I'd like to have believed otherwise, I wasn't a big name filmmaker with a loyal following.
Expecting moviegoers to brave the late Winter rains may have been a touch unrealistic, free tickets or no. Heck, I shouldn't have been braving it myself – not in my current state.
The minute I got home, I planned to turn off the lights and collapse into bed. But then again, there was Cash to consider.
He'd probably need a walk, a toilet break, and oodles of attention. My days of bachelor-style living were, as of a few weeks ago, firmly behind me.
Sliding the keys into my car's ignition, I turned on the heater and pulled my coat up over my head. Up one arm it went, then the other.
The coat snagged on my elbows and I lifted my arms still higher, wriggling as I tried to draw the fabric free. Then something very bad happened.
When I was a teenager, I'd discovered the ability to contort my arms into unusual positions. A good party trick – but one with a clear disadvantage.
Hypermobile joints, as they're known, were are by weak, undeveloped muscles. As a result, sufferers can find themselves prone to accidental dislocations.
I'd throw a ball and next thing my shoulder would be out and I would be screaming, charging into walls in an attempt to relocate it.
This weakness only grew when I didn't exercise…just as I'd failed to do the past few weeks.
Given this painful history, I should've known better than to try pulling my coat over my head. And yet there I was, roaring in pain as it dislocated.
With my hands trapped over my head, I tried to wave down my friends – standing on the sidewalk a few cars away – a movement that only translated into a lackluster shimmy.
With my window up, no one could hear my cries, and opening the door was out of the question.
I rolled my shoulder one way, then the other, hoping against hope it would reset itself. To the casual onlooker, it probably looked like I was wrestling with some invisible demon.
After what felt like forever, there was a meaty clunk, and my arm popped back into the socket.
Flinging off the coat, I sagged back against my seat, breathing raggedly, in a daze of pain.
This, surely, was what rock bottom must feel like.
---
III
Boy was I kidding myself.
What I took to be the encore of my previous cold proved to be the flu. Within hours I was hit by total exhaustion, weakness, and fever. I had pushed my body to its limit, and now, like a rubber band, it was snapping back.
The next week I spent in bed, mostly sleeping. Twice a day I took Cash downstairs to do his business, an exercise which in my current state was incredibly taxing.
Perhaps aware of my condition, Cash sat patiently on the end of my bed, nose to bottlebrush tail, waiting.
By day five, however, cabin fever had set in and my dog started nibbling my toes. When that didn't work, he seized my foot and dragged it to the edge of the bed, in a deliberate plea to be taken out.
A friend agreed to take Cash out for a walk, and while they were gone, I fell to brooding.
The only reason I was so sick was that I'd neglected my own needs. And not just my needs – Cash's as well. I was a bad owner and not cut out for this responsibility.
The barrage of self-doubt rose to fever pitch. I had failed Cash, would continue to fail him, just as I failed everything and everyone else.
The adoption had been a mistake, and Cash would be better off without me.
What I did then was something every rational, emotionally balanced person would have done: I conducted a SWOT analysis of my dog.
Under "strengths" I wrote: "He's an acceptable size for most apartments". "Very cute". In the "weaknesses" column I added: "He's anxious and needy. I don't know how to give him what he wants". "He doesn't like cuddles".
This last point in my opinion represented a very serious breach of the Domesticated Canine Obligation Act of 15,000 B.C. If a dog wasn't helping me hunt or guard my livestock, he sure as hell should be justifying his presence with a little reciprocal affection, at the very least.
But when I tried to touch Cash, he pulled away. When I tried sitting him next to me, he would flee, shying from closeness as if he too suffered an autism-related aversion to touch.
Indeed, if Cash was my child with autism, then I was the struggling mother, and this was a tearjerker Oscar-bait film.
There would be a scene in which I tried holding my child, only to be rebuffed. Ever stoic, I would invent new ways of trying to get close to him.
Again and again, I would be thwarted, until finally, my spirit battered, I would retreat to my room to wail and beat the wall with the flat of my hand, overcome with pain and frustration.
In reality, however, I refused to surrender so easily, instead forcing my way into Cash's affections.
Every day, I would trap him against the bed with my body, kissing him repeatedly on the muzzle. Cash would flail, growling to be let free.
While I'm not certain he appreciated my efforts, I knew that as his dutiful parent, they must be made all the same.
Despite Cash's many contractual breaches, I decided to list his companionship as an opportunity. This I weighed against the potential benefits he might enjoy in the care of a more giving, more responsible owner.
For "threats", I listed: "Too many ongoing commitments. Can't give Cash my full attention", and "He eats s—".
The latter was not a joke. Cash had developed a habit of snapping up other dog's stools during our walks, which meant I had to keep a close vigil every time we went out.
It also meant I'd been forced to temporarily suspend my daily kissing ritual. This probably wasn't my dog's end goal in eating s—.
Chances were, he was actually suffering some kind of nutritional deficiency. It was not in any case a trait I had found endearing.
When my friend returned from his walk with Cash an hour later, my sense of guilt intensified. When in the last three weeks since I'd adopted him, had I given my dog this much attention?
After my friend left, Cash trotted over to the walk-in closet and sat in his doggie bed, a recent substitute for his loathed crate, complete with a baby gate.
The function of this gate was to prevent Cash from sneaking into the kitchen and stealing food scraps when I was cooking. On top of being anxious, Cash like me had a very sensitive stomach.
Anything other than Cash's regular dried dog food was enough to induce the runs. Without the gate, my carpet didn't stand a chance.
This of course hadn't stopped my dog from leaping over the gate at the peak of his separation anxiety. What it had done nevertheless was provide me with a temporary barricade for my dog's incessant neediness. Not the total respite I was secretly craving, but enough for now.
As Cash drifted off to sleep, I decided this compromise was surely more proof I was a terrible owner; that my dog indeed deserved better.
Dragging myself over to my computer, I chipped away at the mound of work I had amassed during my week of illness, fielding email inquiries and paying bills.
My work was interrupted a short while later by a yelp from the closet. Cash appeared, rushing over to lean against my leg.
At first, I thought he hurt himself; brushed up against some sharp object in the closet. When a search of his sleeping space turned up nothing, I concluded that he must have just been a bad dream.
Muttering reassurances, I patted my dog, and he snuggled against me, his eyes full of gratitude.
However much I might see myself as inadequate, this was not a view my dog appeared to hold.
My eyes returned to the incomplete SWOT analysis, considering. Then I turned it over and climbed back into bed.
---
Anxious Seeks Canine continues with Part 6: 'This is MY diva moment'.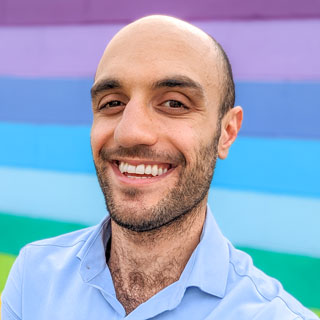 Essy Knopf is a budding social worker interested in best practices and exploring gay and autistic experiences. Subscribe to get all new posts sent directly to your inbox.